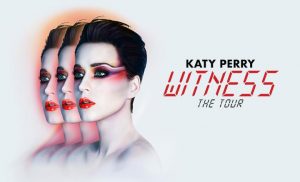 c/o Google Images
Katy Cats rejoice! The famous pop star is on tour for her latest album, Witness. Bringing her classic style to the Prudential Center, Katy Perry gave her fans a show well-worth witnessing.
From the opening notes of "Witness" to the final words of "Firework," the popstar wowed attendees with crazy scenery, such as a lion head in "Roar," a set of giant lips that started eating her during "I Kissed a Girl," and even crazier outfits including a crop top light up to display messages and an all red sequin one legged jumpsuit with matching hood. Perry's performance also mixed classics like the previously mentioned tracks ("Firework," "I Kissed a Girl" and "Roar") and some brand new ones such as "Bon Appetit," "Witness," and "Chained to the Rhythm."
She even included two special guests. The first was her mother, via a phone call, where they talked about the next song and said that they loved each other. The second guest was the "Left Shark" — the dancer in the shark costume of Super Bowl fame — who danced on stage with Perry doing the same move he did during the halftime show.
The main highlight was the pride she had in all of her fans. From taking time to speak with all of her fans to even bringing up a girl on stage to assist in singing "Roar" and allowing her to put the whole thing on snapchat, Perry makes it very clear that she owes all of her success to her fans and that, with people like them, she's not going anywhere anytime soon.