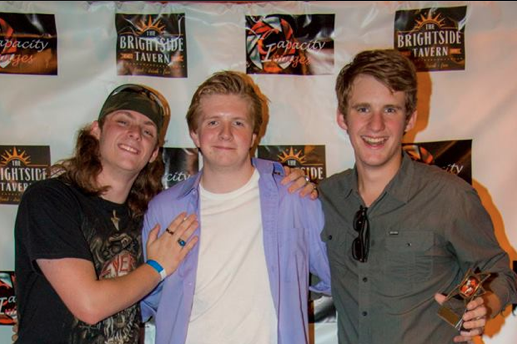 During the 2014-2015 school year, Mr. Corey's TV Production students were instructed to create short films for the class and were more than up to the challenge, with students channeling their creativity to create engaging films that varied from humorous shorts to action-driven plots.  Students worked in small groups of about five students to write, act in, and produce their short films, which demonstrated their strong production skills.  
    Of the vast amount of films produced, twelve were selected to be entered in the Brightside Tavern Film Festival, an event that takes place in Jersey City, NJ twice a year to showcase a variety of films from student-produced to professional films.  There are three categories featured at the festival: high school, college, and professional.  On August 15, 2015, Mr. Corey's students traveled to Jersey City to see their films being featured in the high school section of the festival.  Representing Middletown South proudly, the students won awards for three out of their twelve films.  
Boys Don't Cry, a hilarious short about the devastation of a teenage boy after a malicious breakup, won an award for "Best Comedy" at the festival.  Alex Lenker, Mike Hopkins, Kyle Murphy, Will McCauley, and Alan Bubello are behind the creation of the award-winning short film that caused audiences to both cry with laughter, and maybe shed a few tears of sympathy for the heart-broken boy. The festival awarded the impressive acting and humorous plot with the recognition the film deserved.  
Your Undivided Attention outlines a struggle that many teachers can relate to.  The short follows Mr. Kozak as he does hilarious things to his students as they are distracted by their cell phones, such as spraying them with water or silly string.  Impressively, the students kept a straight face through all of Mr. Kozak's shenanigans, and the Brightside Tavern Film Festival recognized the hard work put into the project.  As a result, Jen Isaksen, Joe Bocchino, Kaylin Iannone, Mike West, and John Jarostchuk won the award for "Best Direction" with their creative short film.  
The Awakening features impressive camerawork and a thrilling plot.  The visually appealing short film followed the main character through an adventure beginning on a train, resulting in an intense run through the forest. The festival awarded the video's creativity with the "Best Student Short" award.  The award was well-deserved by Anthony Raisley, Mike Wilson, Matt Salicco, John Tritini, and Andrew Tompkins, the students who created the short.
All of the videos that participated in the contest can be found on YouTube on the TV Production channel.  Congratulations to all of the students who won!