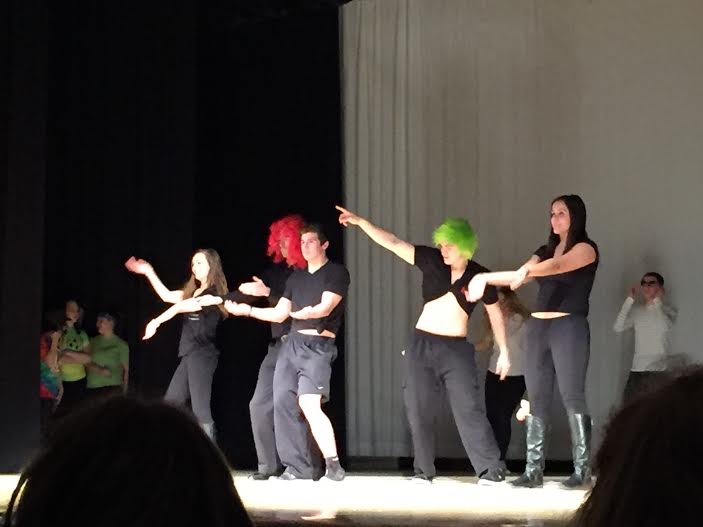 On January 13th the Future Educators of America hosted their annual "Dancing with the Teachers" and they did not disappoint.  The theater was quickly packed with an electrified crowd waiting to cheer on their favorite teachers and friends.  Fourteen teachers took the stage to show off their dance moves.
Last year's "Dancing with the Teachers" winner reminded the audience of her awesome dance moves in the opening act.  Mrs. Smith, along with Mrs. Casicido, Mrs. Bower, and Ms. Thorne, performed a mashup of songs including the theme song to Kung Fu Panda and Miley Cyrus's "Party in the U.S.A." Mr. Rooney and Mrs. Grimm "shook it up" with a dance-off to Taylor Swift and Katy Perry.  One of the most notable moments of the show included Ms. Baratta performing Britney Spears's "Toxic."  Not only was Ms. Baratta's group's dance routine worthy of Spears herself, but the group also sported an exuberant wardrobe.  Mr. Isherwood's performance took a surprising turn when the Latin teacher ripped off his toga to reveal a leather jacket, at which point he and his students broke out into Beyonce's "Single Ladies."   
The show also featured the extremely talented Mrs. Gohar dancing to Beyonce's "Crazy in Love," where she, as Mr. Ventre noted, "would've made Queen B proud."  Ms. May left it all on the dance floor with her routine to "Turn Down for What," her cartwheel being one of the most notable moves of the night.  Mr. Koumoulis and his students professionally performed a number from Mulan called "Make a Man Out of You," featuring Mr. Koumoulis and his students reenacting the scene from the Disney Movie.  Ms. Ketchum and her students performed a very accurate portrayal of the classic scene from Mean Girls to "Jingle Bell Rock," a highlight being Andrew Capelli acting as the youthful mother.  To wrap up the show, Mrs. Hickman and Ms. Hancock and the field hockey girls danced to "You Can't Stop the Beat."  Speaking on the routine, Mr. Rosenbloom that this was "the best performance in terms of actual dancing."          
After a great show filled with fun, energetic performances, the judges had a difficult task ahead of them: to decide the winner.  Mr. Bayers, Mr. Ventre, and Mr. Rosenbloom were clearly impressed with all of the acts, but there could only be one first place winner.  Ultimately, the judges agreed that Mr. Isherwood earned the award for third place, Ms. Baratta would be the second place winner, and Mrs. Hickman and Ms. Hancock earned the first place award.  The crowd chose Mr. Rooney and Mrs. Grimm as the "People's Choice" award after conducting a live survey through texting.
Congratulations to all of the winners and a fantastic job to all of the teachers and students who performed!