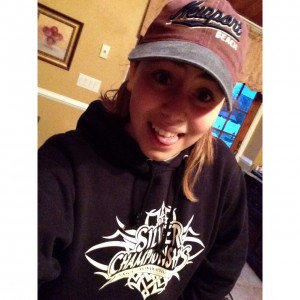 Amanda Giannattasio is a junior here at Middletown High School South and an Entertainment Editor for T
he Eagle Ey
e. She loves to read and more often than not has her nose in the latest Nicholas Sparks novel. Amanda is a swimmer and competes on three different teams, including the South Swim Team. 
Amanda leads a very active lifestyle and can almost always be found outside, practicing her non-existent football skills with her dad,
 running around Thompson Park with her dog Max, or 
with her personal trainer
 She has an obvious love for entertainment and listens to music almost every second of every day. When she is not listening to music she is either on Twitter checking out what's trending, or watching some of her favorite shows on Netflix, favorites are, 
"Big Bang Theory," or "How I Met Your Mother."
  Between sports, school, and the SAT's coming up, Amanda is stressed out more than ever. When life takes its toll she likes to ride her bike or sit on the beach in Sea Bright. Amanda is more than excited to finally become an official member of
The Eagle Eye
team and share her opinions with someone else besides her friends.
Amanda Giannattasio, Entertainment Editor
Oct 09, 2015

Congratulations Tom Coffey Best Wide Receiver in the Shore Conference!

(Story)

Jun 18, 2015

Hidden Talent Surfaces at the Underground

(Story)

Jun 16, 2015

Middletown Rallies to Relay for Life

(Story)

Apr 29, 2015

The New Jersey Marathon

(Story)

Mar 16, 2015

Girl's Basketball Wins First Ever Group III Title!

(Story)

Feb 11, 2015

New Stand Out Sports Series!

(Story)

Feb 11, 2015

Interview With K. Aleisha Fetters

(Story)

Feb 09, 2015

1,000 And Counting

(Story)

Jan 16, 2015

South's Swim Team Swims To Victory

(Story)

Dec 23, 2014

South Administrators Cooking into the Holiday Spirit!

(Story)

Dec 11, 2014

South's Swimming Sensations

(Story)

Jun 12, 2014

The Fault In Our Stars: Movie Review

(Story)

May 27, 2014

And the Basie Goes to…

(Story)

May 20, 2014
May 20, 2014

Neighbors: Review

(Story)

May 08, 2014

The Other Woman: Review

(Story)

May 01, 2014
Apr 21, 2014

Divergent: A Review

(Story)

Apr 20, 2014

The Oscars: Complete Winners List

(Story)

Mar 05, 2014

Saint Patrick's Day Recipes

(Story)

Feb 02, 2014

Valentine's Day with Friends

(Story)

Jan 28, 2014

Valentine's Day Strawberry Delight

(Story)

Nov 20, 2013

An Interview with Mr. Masota

(Story)

Nov 20, 2013

"This is my dream job"–An Interview with Ms. Fox

(Story)

Nov 20, 2013

"Pursue what makes you happy!"- An Interview with Mrs. O'Hare

(Story)

Nov 20, 2013

"Once an eagle, always an eagle!"–An Interview with Ms. Hickman

(Story)

Nov 20, 2013

"Practice Patience"–An Interview with Mrs. Digesere

(Story)

Oct 23, 2013

An Interview with Mrs. Velasquez

(Story)