"Skyfall" Exceeds Expectations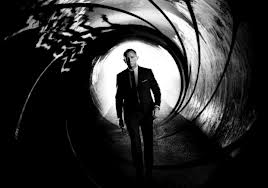 In 1962, the film "Dr. No" came out, based on a novel by journalist Ian Fleming and starring a then unknown actor Sean Connery as a British spy 007. After Fifty years, twenty-two films, five billion dollars, and six actors playing the central role of James Bond, "Skyfall", the latest addition to the Bond canon, is undisputedly one of the greatest Bond movies ever made.
"Skyfall" stars British actor Daniel Craig in his third performance as James Bond. Craig is easily the best Bond since Connery, because unlike Pierce Brosnan or Roger Moore who made James Bond almost seem like a cartoon character, Craig portrays Bond not only as a somber and cold-blooded killer, but someone that feels tragic and compelling also. In this film, Bond's past is fleshed out, and in this film Bond becomes more human than ever before in the series.  The main antagonist this time around is Raul Silvia played by Academy Award Winner Javier Bardem. Silvia, a flamboyant bleach-blond computer hacker, steals the drive containing the identities of every MI6 agent and has a personal vendetta against M, Bond's supervisor. Silvia will easily go down as one of the best Bond villains ever, his character invokes similarities from the Joker to Hannibal Lecter, but Silvia is an original and fantastic creation.
This is Judi Dench's seventh performance as M in the Bond movies, and this film finally puts her in the center of the action. Judi Dench, one of the best actresses working today, gets more screen time than ever. Also, we finally get to learn more about M, and she becomes a far more interesting and complex character. Ralph Fiennes (AKA Voldemort), shows up in the film as Gareth Mallory, the chairman of the Intelligence and Security Committee and Albert Finney has a great role as a gamekeeper who shares a history with Bond.
"Skyfall" was directed by Sam Mendes, who previously directed "American Beauty", and "Road the Perdition." Mendes seems like an unusual choice for a director of a Bond film, he usually dabbles in dramatic fare, but he truly delivers in "Skyfall". The opening sequence of the film is truly breathtaking and is possibly the best ever in a James Bond film. The film was written by Neal Purvis, Robert Wade, and John Logan, who created a brand new Bond, but with love and respect for the old Bond. Roger Deakins, the Coen Brothers go to guy for cinematography, does a beautiful job with "Skyfall." The cinematography alone is enough to make this movie a must see.
After the convoluted mess that was "Quantum of a Solace", hopes were high for this movie to be good, but "Skyfall" far exceeds anyone's expectations. "Skyfall" is hugely entertaining film with a great story, fantastic acting, dimensional characters, beautiful cinematography, and breathtaking action scenes. The James Bond series may be fifty years old, but "Skyfall" invigorates the franchise and shows that an old dog can learn new tricks.