Blockbusters, Raunchy Comedies, and Pixar: A Summer Movie Preview
Hang on for a minute...we're trying to find some more stories you might like.
This summer brings us a copious amount of awesome movies being released. From superhero blockbusters to raunchy comedies, there's a movie being released that anyone can look forward to. Here's a look at the most highly anticipated movies coming out.
For fans of superhero movies:
Iron Man 3: This film, which opens May 3, is the third installment in the enormously popular Iron Man film series. Much of the film series' appeal is a result of Robert Downey Jr.'s fantastic portrayal of Tony Stark, who has changed Iron Man as a second-tier superhero to one of the most popular superheroes in pop culture history. Robert Downey Jr., Gwyneth Paltrow, and Don Cheadle will all reprise their roles from the previous film.  Guy Pearce and Rebecca Hall all have roles in the film, as does Ben Kingsley, who plays Mandarin, Iron Man's nemesis in the comics.
Man of Steel: The film, which opens June 14th, is a reboot of the Superman film franchise and easily one of the most anticipated movies of the year.  The film stars Henry Cavill as Clark Kent/Superman, and Amy Adams as Lois Lane. The film is produced by nerd god Christopher Nolan and directed by Zack Snyder, director of "300" and "Watchmen". The film will show Clark Kent's struggle to find his own place in life and protect Earth from those who want to harm it.
For fans of Raunchy Comedies:
The Hangover Part III: The film, which opens May 24, is the final chapter in the Hangover film series. Breaking tradition, the plot will not focus on a bachelor party gone wrong but instead focus on the wolf pack tracking Chow down after accidently getting involved in a gang led by John Goodman. Many fans of the series hope that the film will produce the huge laughs that the first two films had, while being more original than the last film.
This is the End: The film, which opens June 12, is an upcoming apocalyptic comedy directed and written by Seth Rogan and Evan Goldberg, who previously wrote "Superbad." The cast includes James Franco, Seth Rogan, Jonah Hill, Jay Baruchel, Danny McBride, Emma Watson, Michael Cera, Aziz Ansari, and the Backstreet Boys.
For fans of animated movies:
 Monsters University: The film, which opens June 21, is a prequel to "Monsters Inc.", which came out in 2001. The film will show Mike and Sully's time at college and how they overcame their differences to become the best of friends. The film will include the voices of John Goodman, Billy Crystal, Steve Buscemi, Ken Jeong, Kelsey Grammar, and Pixar denizen John Ratzenberger.
Turbo: The film, which opens July 17, follows an underdog snail who kicks into overdrive when he miraculously attains the power of super-speed.  But after making fast friends with a crew of streetwise, tricked-out es-car-goes, Turbo learns that no one succeeds on his own. So he puts his heart and shell on the line to help his pals achieve their dreams, before Turbo-charging his own impossible dream: winning the Indy 500. Turbowill feature the voices of Ryan Reynolds and Paul Giamatti.

About the Writer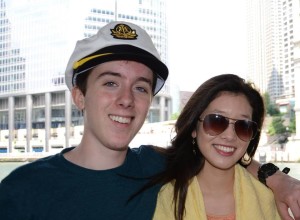 Spencer Mullen, Arts and Entertainment Editor


From the soccer field to the stage, you can find Spencer Mullen almost anywhere around Middletown High School South. Spencer is the kind of kid...