American Horror Story: Coven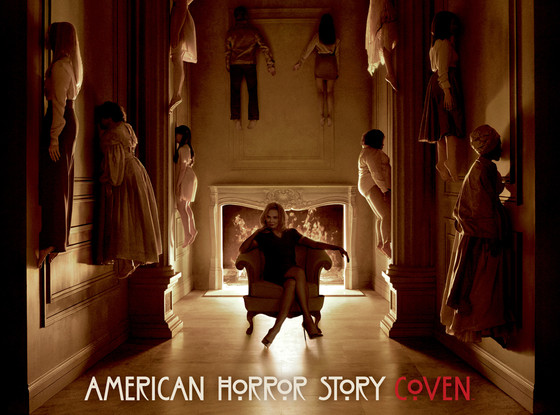 Jessica Fisher, Staff Writer
November 6, 2013
On Wednesday, October 9th at 10 PM, FX aired the highly anticipated premiere of the third installment of American Horror Story. In this hour long episode, creator Ryan Murphy displayed many "horrific" sights: a skinless face, the tortured slaves of LaLaurie, a woman burned at the stake, the application of a facial cream made of human pancreas, a human voodoo doll, and many, many bizarre deaths. This program is not for those faint of heart, but the stories it displays appeal to its specific audience successfully…an audience of 7.8 million viewers; the most in the franchise's history.
For those unfamiliar with it, this television show tells a new story every season. Last year it held its viewers with the depiction of an insane asylum in the 1950's and its disturbing methods of "curing" patients, and in its first season it told the story of a terrifying haunted house. This season, which takes place in modern times, tells of a "boarding school" (which can hardly be called a boarding school with its 4 students) in New Orleans. The boarding school is called the Miss Robichaux's Academy for Exceptional Young Ladies, which was established to protect witches from the threat of the outside world.
Ryan Murphy began by summarizing the story of the real (yes, real ) woman Delphine LaLaurie, played by the fabulous Kathy Bates. LaLaurie lived in New Orleans in the late 1700's to the mid 1800's, and did some terrible things to her slaves, which are portrayed quite graphically in the opening section of the episode. This introduction was debatably "a bit too far" in its scare-factor, but Murphy could have used it as a warning to his viewers; discretion really is strongly advised.
The weaker viewers most likely tuned out at that point, but those with a strong enough will continued to watch past the opening and the creepy title sequence and met  Zoe, played by Taissa Farmiga from Season 1. Zoe is a very relatable, average teenage girl who, at one point, makes a fatal (and explicit) mistake that leads her to be sent to the Academy for Exceptional Young Ladies.
As always, Ryan Murphy was able to interweave stories of different times, and before the story of Zoe continues, viewers got to see Jessica Lange acting as timeless, and "fierce" as ever. She struggles as she tries to find a way to restore her youth, destroying anyone in her way. Lange displays her acting chops in such a detailed role, but it was disappointing to see her play the same type of character as she has in the past seasons. Nevertheless, she was breathtaking.
Many audience members had concern regarding the appearance of Nickelodeon's 'Unfabulous' star, Emma Roberts, as a major character (Madison Montgomery) in this season. Many voiced their distaste of her acting choices on Twitter and other social media websites (though some of these tweets may have come from girls jealous of Roberts's relationship with co-star heartthrob Evan Peters). She showed improvement in character though by the end of the episode when she dealt with well earned hatred in a radical manner, and has progressively become more likable as the season has progressed.
Other characters introduced were Nan, played by the lovely Jamie Brewer who was featured in Season 1, and Queenie played by 'Precious' star Gabourey Sidibe. The fantastic actress Sarah Paulson returned this season to portray Cordelia Foxx, a character in subordination of Lange's character, similar to last season. Viewers were disappointed to see a lack in Paulson's screen time and what time she did have was lackluster, or disturbing. Lily Rabe plays a character very dissimilar to her previous role, but is as fabulous as ever. Last but certainly not least was the adorable Evan Peters, who returned as a college frat boy. His role is extremely different than the others he had in the past; his character is a normal, kind college boy, rather than his usual "disturbed" characters. The audience fell in love with him all over again as he displayed his acting versatility, though viewers were disappointed with his zombie-like state in the following episodes.
This episode did not disappoint, though the following two had less positive reactions. The episodes lacked the excitement and anticipation that every episode held last season. However, they had interesting plot points, including one involving the incomparable Patti LuPone. These reviews are not to say that common viewers will stop watching, but they might not feel as compelled to stay up until 11PM on Wednesday nights just to see Evan Peters act like a zombie.