Anchorman Sequel Fails to Live Up to Hype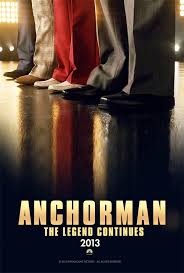 Regardless of maturity level, sometimes everyone just has to laugh at the silly stuff, and that's exactly what sense of humor the original "Anchorman" movie appealed to, with a star-studded cast starring  Will Ferrell and Christina Applegate, as well as including Paul Rudd and Steve Carell. Based off of a newsroom in the 1970s and poking fun at the women's rights movement at the time, the flick was a box-office killer. The same gang reunited, almost a decade after their premier, to put together "Anchorman 2: The Legend Continues" and for all of the advertising and tremendous hype associated with the long-anticipated follow-up, writer Adam McKay took viewers on a literally blind path from a sensible plotline to an overdose of incomprehensible nonsense and a feeble attempt at a recreation of the past.
The premise of the movie as well as the return of the entire original cast was both impressive and funny for the most part, especially at the beginning when Ron Burgundy (Will Ferrell) gets the gang back together and interrupts his old news team's less-than-impressive occupations to invite them to the first-ever 24-hour news channel. One essential comedic component of the movie was the tragically dumb weatherman, Brick Tamland (Steve Carell), who came in with one-liners and out-of-place remarks throughout. Brick even ventures into an unorthodox love affair with Bridesmaids star Kristen Wiig, who embodies every bit of Brick's eccentricities and hits the comedic nail on the head, proving that laughing at stupidity just never gets old.
Disappointingly, it seems as though every other joke made in the film was a weak try at reviving a joke from the previous one, which sparks some laughs in the beginning but grows old when, except for the clearly aged cast, it's impossible to tell the difference between the two. The authors clearly abandon this tactic about half way through the movie and do not return to it until the epicly recreated news team battle scene at the end, which is actually beyond hysterical. In the middle, however, there is an odd moment when Ron goes physically blind and falls from his throne of the news-reporting world, becoming a recluse to society (and apparently to comedy as well). I'm not sure if the writers were trying to make Ron's blindness a crucial part of the plot or a grab at some simple-minded laughs, but it accomplished neither and ultimately detracted immensely from the overall effect of the tale.
The truth is the authors stretched this story out way longer than it needed to be, attempting to appeal half-heartedly to emotion, comedy, and memories of the previous movie. I would deem this movie entirely overrated if not for the chaotic, unpredictable final news team brawl, where an array top-billed actors butt their ways into the conflict; this is the one the few times where the "pull-from-the-prequel" strategy paid off and had the entire theater in tears. Despite the solid ending, this film failed to meet its astronomical expectations and surely finds itself on the list of movies titled, "Yeah, but the first one was better."
Leave a Comment