10 Rom-Coms to Watch This Valentine's Day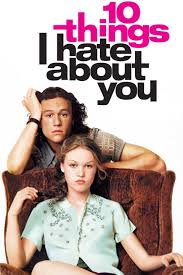 This past year everyone had to get used to spending some time alone. With Valentine's Day approaching, many of us can't help but wish we had someone to spend it with. Whether you do have that someone special, you're hanging out with some friends, or you're spending the day alone, a rom-com is always a good idea! Here are 10 of the best romantic comedies to watch in honor of Valentine's Day. 
1. 10 Things I Hate About You
This film is a loose 90s adaptation of Shakespeare's The Taming of the Shrew. Bianca Straford (Larisa Oleynik) wants to start dating, however a house rule says that she can only date when her older sister Kat (Julia Stiles) does. When Kat crosses paths with Patrick Verona (Heath Ledger), the classic "good girl falls for a bad boy" storyline begins. This high school movie is funny, sweet and perfect for the hopeless romantic. 
2. Confessions of A Shopaholic
Based on the Shopaholic book series by Sophia Kinsella, the story is set in New York City. Rebecca Bloomwood (Isla Fisher) loves to shop; however, her shopping addiction is met with extreme debt. Rebecca's dream is to write for the fashion magazine, Alette. She is instead hired to write a column for Successful Saving, and it generates instant success. Dealing with her shopping addiction, her new job, and love, Rebecca's story is sure to make you laugh. 
3. La La Land
Mia (Emma Stone) is a struggling actress, and Sebastian (Ryan Gosling) is a struggling pianist. They both have extreme passion and are drawn together by this common desire. However, their passion also draws them apart. They are faced with a series of difficult decisions that push them away from one another and dull their love. This witty, musical romantic comedy is a new classic. 
4. 500 Days of Summer
Tom (Joseph Gordon-Levitt) is the perfect description of a hopeless romantic. When his girlfriend, Summer (Zooey Deschanel), dumps him, he begins to reflect on their 500 days together. Summer did not believe in relationships or boyfriends, but Tom felt it was love at first sight. Through his deep analysis, Tom has to learn whether it was simply their differing views on love or a specific event that led to the downfall of their relationship. 
5. When Harry Met Sally
This classic romantic comedy follows Harry Burns (Bill Crystal) and Sally Albright (Meg Ryan) who initially share a car ride from Chicago to New York in which they discuss if men and women can be strictly platonic friends. The film follows their life as they make attempts in love and eventually meet again ten years later in a bookstore. They become good friends but are troubled by the problem of getting romantically involved. 
6. Say Anything
Another classic story of first love and romance features Lloyd (John Cusack) who is trying to capture the heart of Diane (Ione Skye). Lloyd is an optimist, however he is even surprised when Diane, the beautiful straight-A student accepts his offer of a date. The problem is no longer Diane, but her overprotective father who disapproves of Lloyd's lack of aspirations. This film is worth the watch simply for the iconic boombox serenade scene. 
7. 50 First Dates
Henry Roth (Adam Sandler) sets out to woo Lucy (Drew Barrymore) who suffers from short-term memory loss. Lucy can't remember anything from the day before, meaning that Henry has to regain her love every day. Lucy's parents are very protective, so Henry must also prove his love for their daughter to them. 
8. Easy A
The film is loosely based on the classic novel The Scarlet Letter by Nathaniel Hawthorne. However, director Will Gluck takes a very playful approach to this story. Olive Penderghast (Emma Stone) tells one little lie to her best friend, but, when this is overheard by the school's gossip (Amanda Bynes), her white lie gets spun into a web of intricate stories. Though romance is not the main goal of the film, Olive's relationship with Todd (Penn Badgley) is sure to make you smile this Valentine's Day. 
9. Valentine's Day
This film is an obvious choice for Valentine's Day, as it is set on the holiday. It follows a group of over a dozen Los Angeles residents (Julia Robets, Taylor Swift, Ashton Kutcher, Jennifer Garner, along with many others), as they navigate their day. Through a series of interconnected stories, we witness the ups and downs each relationship experiences on one very special day. 
10. Groundhog Day
Cynical TV weatherman, Phil (Bill Murray) is covering Groundhog Day straight from Punxsutawney, Pennsylvania. He gets caught in a blizzard that traps him in a time warp where he is forced to live the same day over and over until he gets it right. From developing new skills to developing new relationships, this movie is perfect for any day of the year, but especially Valentine's Day.