"Gangnam" Goes Global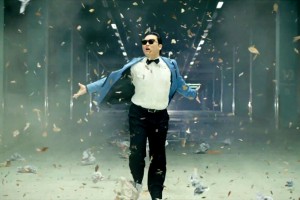 K-Pop sensation PSY's hit single "Oppa Gangnam Style" is taking the internet world—as well as the real world—by storm. Is it the crazy dance moves? The catchy tunes? The real question is, how did such a foreign song find huge success in the Western world? Few entertainers from East Asia have ever reached global stardom, with  the exceptions of Jet Li and Jackie Chan. After all, most of "Oppa Gangnam Style" is in Korean. This serves as a perfect metaphor for the current confrontation of East and West, not just in terms of pop culture.
The mystery of success—some, from marketers to psychologists, say it's the lack of copyright, allowing an abundance of parodies to spread its fame. Others say it's the humorous, whimsical rap-style that makes it so attractive. Yet, mid-July, it's released and now has reached over four-hundred and forty million Youtube hits. The information age has provided the perfect medium for stardom to arise from anywhere. Look at Justin Beiber and the song "Friday." After PSY's explosion in South Korea, his whimsical single spread throughout the internet like wildfire, mentioned by artists such as Katy Perry and Britney Spears and covered by CNN International, the Wall Street Journal, the Financial Times, and Harvard Business Review. PSY has also performed on MYV, the Ellen DeGeneres Show, Saturday Night Live and countless other shows. It topped the iTunes charts in over thirty countries.
Yet, PSY did not expect this response at all. He was just singing in his native language, rapping for local Korean fans. PSY does things his way—his own rhythm and style—without deliberately trying to appeal to American audiences. This current infatuation with K-Pop just goes to show that there is a mixing of cultures between the East and West. Look around—the sushi obsession, the trendiness of yoga, the abundance of anime and manga, the growing popularity of kung-fu (Kung-Fu Panda)—there is in fact an Asian craze. PSY observes this significance: 'If I have a chance I want my music lyric[s] to be Korean… The world's most famous and popular language is music. So, if we have some sort of solution with these kinds of dance moves and this kind of music video so that I can use Korean if possible? It's really huge history for my country." It's a new kind of globalization. PSY can do his thing and, not only do other cultures accept it, they love it.
This success also plays a huge role in the developing modern culture of South Korea. The song tells the story of the growth of pop-culture and the new rich. Gangnam is actually a city in South Korea, one that has been becoming more and more trendy and affluent. In fact, PSY is singing about a woman who he's trying to convince that he's rich and interesting. The song is a social-commentary on Gangnam's upper class. Sociology professor, Wang, at Cal State Long Beach says, "I think it's brilliant that what most non-Korean-speakers think is some kind of over-the-top music video is actually, itself, a subversive critique of over-the-top upper class mores, "Ultimately, "Oppa Gangnam Style" is not just a popular fun song. It is revealing of Korean culture and serves as another testament to the power of publicity through Youtube.