Christmas Red Velvet Cupcakes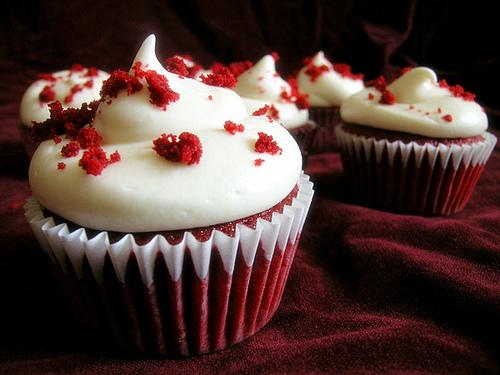 Caitlin Soden, Staff Writer
December 17, 2012
This recipe will show you how to make delicious red velvet cupcakes with creamy cream cheese frosting. They are the perfect dessert for guests at a Christmas party or a family gathering!
Ingredients:
2 cups all-purpose flour
1 ¼ teaspoons baking soda
1 ¼ teaspoons salt
1 ¼ teaspoons unsweetened cocoa powder
1 ½ cups vegetable oil
1 ¾ cups granulated sugar
1 ¼ cups buttermilk
3 eggs
1 ¼ teaspoons vanilla extract
2 tablespoons and 2 teaspoons red food coloring
1 ¼ teaspoons vinegar
1/8 cup water
Directions:
Preheat oven to 350°
Sift together flour, baking soda, salt, and cocoa powder in a bowl
In a mixer, mix vegetable oil, sugar, and buttermilk
Add eggs, food coloring, vinegar, vanilla, and water.  Mix
Add dry ingredients slowly and mix on low
Fill cups and bake for 20 to 30 minutes
Cream Cheese Frosting
Ingredients:
¾ pounds cream cheese (room temperature)
½ pound butter (room temperature)
1 pound powdered sugar (sifted)
½ tablespoon vanilla extract
Directions:
Whip butter and cream cheese together in a mixer until creamy
Gradually add powdered sugar
Add vanilla and continue mixing
This recipe makes 16 cupcakes. Enjoy!