An Interview with Mrs. Velasquez
"I love everything about South"- Mrs.Velasquez
Q: Where did you get your teaching degree?
A: I received my teaching degree from Ramapo College of New Jersey.
Q: What made you want to become a teacher?
A: I knew at a very early age that I wanted to become a teacher. As a child, I became addicted to school supplies! I used every possible supply to teach my younger family members all of the lessons that I was learning in school. I found that I was very good at it. As I got older, I realized that I was able to explain very challenging and complex concepts to others in ways that would really "stick" for them. Helping others made me feel great and I wanted to continue. When, in high school, I was fortunate enough to have one of the most amazing English teachers I have ever met, my decision was finalized.
Q: Is this your first teaching job?
A: While I am new to Middletown High School South, this is actually my eighth year teaching. I have also worked as a middle school English Language Arts Literacy Coach as well as a district-level English Language Arts Literacy Coach.
Q: What made you pick South?
A: The Middletown community is amazing! I was most drawn to South due to its sense of  community, school-spirit, and philosophies.
Q: What do you like about South so far?
A: I love everything about South so far! The students are truly amazing. The parents are very supportive, and so are the staff member!
Q: What do you like to do outside of school?
A: I enjoy learning. I spend most of my time reading and teaching myself new things. I come from a very large family, so I also spend a significant amount of time at family-related events. Oh, and I love shopping…. for…school supplies!
Q:What is the hardest part of the job? What's the easiest?
A: I have always found the end of the year to be hard in the sense that classes end after you've spent so long becoming a "classroom family".  My career is easy to love because of how enjoyable and rewarding it is.
Q: What sports or activities did you take part in as a kid?
A: I enjoyed playing softball and basketball the most. I also enjoyed "playing" the piano–despite the fact that I did not really excel in that area… at… all.
Q: If you can give one piece of advice to anyone what would it be?
A: Take your time. Enjoy your day as much as possible. I have a sign on my classroom door that reminds my students to "Make today ridiculously amazing." I really believe that it is important to remind students and adults that every single day should be spent in a "ridiculously amazing" way.
Q:Would you go somewhere sunny or cold on vacation?
A: Sunny!
Q: Is there anything that you would like to add?
A: I'm still addicted to school supplies!
About the Writer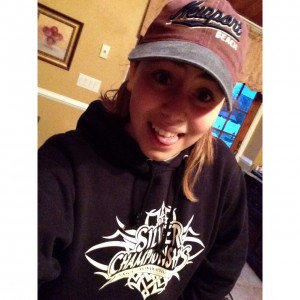 Amanda Giannattasio, Entertainment Editor
Amanda Giannattasio is a junior here at Middletown High School South and an Entertainment Editor for The Eagle Eye. She loves to read and more often than...