Delectable Treats for New Year's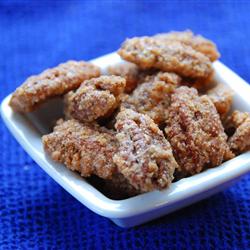 Hang on for a minute...we're trying to find some more stories you might like.
New Year's Eve is the perfect time to share delicious appetizers with friends and family! Whether you're throwing a party or just spending time with your loved one, these quick and easy recipes are sure to please!
Flaky King Crab Appetizers
Ingredients:
2 (12 ounce) packagesrefrigerated biscuit dough

1 (8 ounce) package cream cheese, softened

1 (6 ounce) can crab meat, drained

2 tablespoons mayonnaise

2 tablespoons grated Parmesan cheese
1/2 cup shredded Cheddar cheese

2 tablespoons thinly sliced green onion

1 teaspoon Worcestershire sauce

1 pinch paprika
Directions:
Preheat oven to 375 degrees F (190 degrees C). Lightly grease 12 tartlet pans.
Divide rolls in half and press into the prepared tartlet pans. Set aside.
In a large bowl, combine cream cheese, crab, mayonnaise, Parmesan cheese, Cheddar cheese, green onions and Worcestershire sauce. Spoon 1 teaspoon of mixture into tarts and garnish with paprika.
Bake at 375 degrees F (190 degrees C) for 15 to 20 minutes, or until light brown. These freeze wonderfully. Just reheat before serving.
Bacon Cheese Puffs
Ingredients:
1 pound sliced bacon

2 1/2 cups shredded Cheddar cheese
Directions:
Place bacon in a large, deep skillet. Cook over medium-high heat until evenly brown. Drain, crumble and set aside.
Preheat oven to broil.
In a medium bowl combine the bacon, cheese, mustard and mayonnaise. Stir well. Arrange party bread on a cookie sheet. Spoon mixture onto each slice of bread.
Broil for 5 minutes, or until bubbly.
Sugar Coated Pecans
Ingredients:
Directions:
Preheat oven to 250 degrees F (120 degrees C). Grease one baking sheet.
In a mixing bowl, whip together the egg white and water until frothy. In a separate bowl, mix together sugar, salt, and cinnamon.
Add pecans to egg whites, stir to coat the nuts evenly. Remove the nuts, and toss them in the sugar mixture until coated. Spread the nuts out on the prepared baking sheet.
Bake at 250 degrees F (120 degrees C) for 1 hour. Stir every 15 minutes.