Valentine's Day with Friends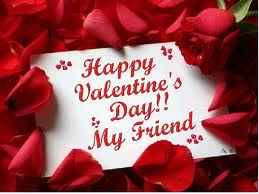 Valentines Day is traditionally a day of endearment and affection, during which you can spend time with the one you love; but what if you don't have a date? Many people get so caught up in the commercialized Valentine's Day romance that they do not realize that some people don't have that special someone to share it with. While it might seem a lot easier to sit around wishing for a boyfriend/girlfriend, it would be a lot more fun to celebrate friendships.
Movie: There are three Valentines Day themed movies coming out this year; Winter's Tale starring Colin Farrell. It tells the tale of two people whose love was taken from them, and meet again in another lifetime. The second movie is Endless Love starring Gabriella Wilde, Alex Pettyfer, and Bruce Greenwood. This movie is a classic Valentines Day movie that tells the story of a exuberant boy who falls for a rich and gorgeous girl, whose love knows no limits. Their love for one another is filled with passion and sacrifice, as the girl's parents will do anything to keep them apart. Endless Love is the classic story of forbidden love. The third movie coming out this year is About Last Night starring Kevin Hart, Joy Bryant, and Regina Hall. This romantic comedy follows two couples who meet at a bar and fall in love.
A Night In: Create your own fun night at home! There are a million ways to make it fun. You can make Valentines Day themed food with your friends while listening to your favorite playlist. Like pizza with heart shaped pepperoni, or grilled cheese, one of my all time favorite desserts for Valentines Day is definitely red velvet cupcakes with cream cheese frosting. After all your hard work is done in the kitchen you can cozy up on the couch and skip the sappy romance movies, instead watch comedies with your friends.
Dinner and Shopping: Spend an evening dining and exploring local restaurants. There are so many fabulous restaurants in Red Bank that you are bound to find one that will channel the Valentines Day spirit. Make a reservation, order dessert, and treat you and your friends to the entire Valentine's Day experience!! After dinner, you could paint pottery at a Time to Kiln, go pick out sweet treats at Carlo's Bakery, or go buy yourself to a Valentines Day gift at the local shops, like Alex & Ani and Urban Outfitters.
Valentines Day doesn't have to be boring if you don't have someone to share it with, you can have fun on your own with the help of some friends.