Interview With K. Aleisha Fetters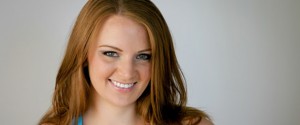 "A one-woman media machine, free-weight fanatic, Scuba enthusiast, budding Bollywood dancer, and specialist at sleeping in. Believes avocado is an all-the-time food." This is the first thing you see on K. Aleisha Fetters bio. Fetters is a health and fitness blogger, freelance writer, and an Associate Online Editor at Women's Health. Her objective in life is simple, "To smile often. To FLEX and stretch my creative muscles. To infuse my ingenuity and enthusiasm into an outstanding product." By talking to Aleisha you will learn things that you wouldn't be able to learn from a book or website, she is truly a wealth of knowledge and has a lot to share with the world.
Q: Did your time at Northwestern influence your decision to pursue a career in Health and Fitness?
A: Since high school, I've been a fan of sports and exercise, but it was my junior-year internship with Women's Health that really took me in that direction. Your junior year at Medill, every student completes a mandatory internship. You get to pref the publications with which you'd like to work and Medill places you (the school partners with about two dozen publications around the country and a few abroad). I put WH as my number-one choice and, luckily, it worked out. I spent 10 weeks there during the spring of that year and ended up taking a summer position as an online editorial assistant. I really loved the work, so when I came back to NU to finish my senior year and grad degree (I completed the accelerated master's program), I focused my grad degree on health and science reporting.
Q: Are athletes difficult to set up interviews with? What is the biggest obstacle?
A: Any and all media with athletes runs through their public relations representatives and agents. If you want to interview an athlete, you have to first contact the pr reps to get approval and set up an interview, etc. Sometimes, the process can be incredibly simple and, at other times, mind-numbing. Generally, the more famous the athlete, the bigger the hurdles to setting up an interview, and the less time you actually get to talk to him/her. Both MH and WH, for instance, have people dedicated to cultivating relationships with celebrity agents.
Q: What is the most rewarding part of your job as Associate Online Editor at Women's Health?
A: I learned a lot at WH about the things I do–and don't–want to do as a writer. While I loved my team, I wasn't a huge fan of working in an office. I also found that a lot of an on-staff job at a magazine (especially if you are in an online department) is wrapped up in marketing. It was really interesting, working on sponsored centers, email blasts, seo, etc, but I wasn't able to write near as much as I wanted to.
Q: As a freelance writer how do you decide which publications to submit your articles to?
A: I have established relationships with different editors and publications. About half of my assignments are emails saying, "hey, can you write this story by tk date for tk dollars?" and the rest are pitches that I send. However, contrary to what most consumers think, you don't actually send anyone a completed story to see if they want to run it. You typically just send them a proposed hed and a few sentences to paragraphs about what the article would entail. When I come up with story ideas, I decide to whom I'll send it based on the angle, news peg, and what the possible service will be. For instance, I write a lot of "health myths" for details.com, study-based pieces for fitnessmagazine.com, and a lot of roundups for womenshealthmag.com. Most of my print pieces are assigned, rather than pitched.
Q: Who is your favorite athlete interviewee?
A: I actually haven't interviewed many athletes, but my favorite so far has been Sasha DiGiulian. She was an absolute sweetheart and total badass. An awesome role-model for women in sports–and life.
Q: Do you have a specific regimen/diet that you follow for nutrition and fitness?
A: I grew up eating junk food for breakfast, lunch, and dinner, so eating healthy is my biggest challenge. Food prep helps me stick to a healthy eating strategy. I have a lot more motivation to eat healthy when I'm cooking than when I'm hungry and rummaging through the kitchen or too tired to cook. I don't really believe in "diets," and just focus on eating healthy: protein, produce, low-fat dairy, and reasonable portions of whole grains. As far as fitness goes, I love weight lifting. I recently got into long-distance running, and am planning my first full marathon this year. I'm working on treating my ITBS before I start pounding the pavement again, though.
Q: Do you have anything to add?

A: I love freelancing, but I don't think I would be nearly as successful as I am if I hadn't worked at a publication full-time. By working on-staff or even as an intern, you get clips and network, both of which are necessary to get work as a freelancer