Pygmalion: A Preview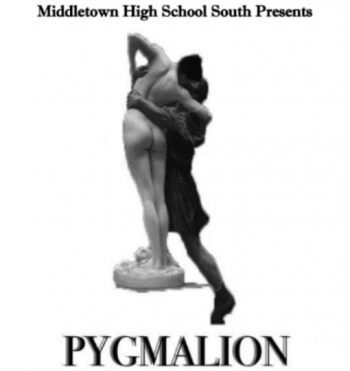 Hang on for a minute...we're trying to find some more stories you might like.
Middletown South's fall drama, Pygmalion is quickly approaching. Pygmalion , written
by George Bernard Shaw, illustrates both the rigid class structures as well as the idea that man is greater than woman in 20th century England.
Don't be confused by the title; it shares its name with a greek myth about a sculptor and his attempt to create his idea of the perfect woman. The play, however, tells the story of flower seller, Eliza Doolittle, and phonetics professor, Henry Higgins. Professor Higgins bets that he can pass guttersnipe, Eliza Doolittle, off as a duchess at the ambassador's ball. In order to do this, he completely transforms Eliza into a beautiful, proper young woman, but, by doing so, he completely turns Eliza's life upside down. Leading this extraordinary cast is junior, Kie Antone, and sophomore, Olivia Parauda as Henry Higgins and Eliza Doolittle. With them are supporting cast members, senior, Kaylin Iannone; juniors, Bobby DiGenova, Matt Glenn, and Julianna Horn; sophomores Camille Pugliese and Alexandra Pennington; and freshman, Joe Guzzone.
Pygmalion handles topics such as classism and sexism, making the play as relevant today as it was when it was written and performed in 1912. Director, Mr. Koumoulis, believes that "the conflict between man vs. women and teacher vs. student are ever-present throughout history, but in this case the woman asserts independence and a man doesn't own her." He also mentions that "the top 1% still controls the lower class and tell them what they can and cannot do." These two factors are important in relating the play to today's times. The complex subject matter of this play causes it to rarely be performed in high school. "This [theatre] program can handle it and the students are always up for a challenge," says Koumoulis in reference to this challenge.
Pygmalion hits the stage on November 30th at 7 pm and runs through December 2nd. You can buy tickets at mhss.booktix.com.