Local Halloween Festivities That Are Sure to Scare Your Socks Off
Halloween is inching closer and closer so check out these 6 festive Halloween activities that are sure to get you in the spooky spirit.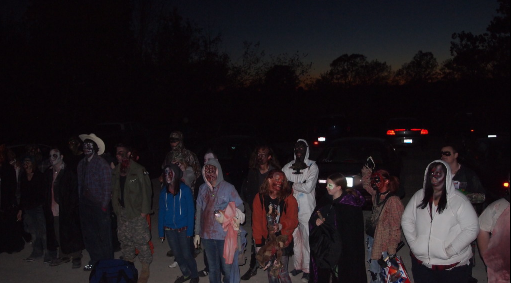 Ella Cascone and Andrea Valentino, Staff Writers
October 30, 2019
Looking for some last-minute scares? Check out these events that are still going on!
Casola Farms:

This year A.Casola Farms stepped up their Halloween game by adding even more spooks and scares to their famous Haunted Hayride. This year, it has transformed into a whole haunted adventure, features such as the Forbidden Forest, the Corn Walk of Terror, and the Haunted Hay Wagons serving as main attractions. Not only does Casola Farms provide Halloween activities, but they also have many other fall events available for everyone. If you aren't interested in the spooky side of Halloween, you can still find pumpkin picking, regular hayrides, and a petting zoo all in the same place. Head on over to their website for more information on these spooktacular activities:

http://acasolafarms.com/

.

Six Flags Frightfest:

Almost everyone has heard of Frightfest, but if you have never been, you may be confused about what Frightfest actually is. Beginning in September, characters dressed in terrifying costumes walk the grounds of Six Flags after dark, providing scares and laughter for those in attendance. Those who work to scare park-goers stand in assigned areas throughout the park and do their best to frighten those who pass by. Additionally, Frightfest includes haunted mazes teeming with jump scares guaranteed to spook navigating participants. Each maze has its own unique theme and each year new mazes are added. Usually, when you think of Halloween, everything scary, and the subsequent adrenaline rush, comes to mind; Frightfest is the perfect way to embrace that spooky side of Halloween. If you plan on attending, be prepared to scream and run. Check out Six Flags' website for more information:

https://www.sixflags.com/greatadventure/special-events/fright-fest
Want to get a head start for next year? Check out these yearly events that are sure to get you spooked!
Molzon's Fall Festival:

Molzon's Fall Festival is an annual event, run by Lincroft Elementary School's PFA and hosted by the famed Molzon Nursery. The Fall Festival has been held since at Molzons since 1998, making 2019 its 22nd consecutive year of running. There are many activities available at the festival such as bracelet making, face-painting, and pumpkin decorating. There are also a multitude of games to play, Pumpkin Bowling, Ghost Catch, Corn Hole, and Ring Toss serving as just a few examples. Molzon's Fall Festival is not aimed to be scary, making this a good Halloween-related activity for families with younger children. 

https://www.thejournalnj.com/articles/molzons-fall-festival-20-year-tradition/

Jenkinson's BOO at the Boardwalk:

Though this Halloween event is geared towards younger children, there is still plenty of fun and festive options for other ages as well. This Jenkinson's event boasts a wide variety of activities, including trick-or-treating, crafts, games, a pumpkin patch, a beach maze, and underwater pumpkin carving. The underwater pumpkin carving takes place every day at 2:30 PM at the Jenkinson's Aquarium. And, if you visit the boardwalk on October 26th, you'll catch Perky's Pumpkin Derby. Check out their website if you're interested!

https://jenkinsons.com/event/boo-at-the-boardwalk-2/2019-10-26/

 

The Haunted Trail:

Taking place at the Middletown Sports Complex, known to many as the town's ice rink, the Haunted Trail will be open for one day a year, and is sure to make you scream. Although the trail is geared more-so towards teens, there is a family-friendly version available in which young ones and their families can attend earlier in the day for a less "haunted" trail. The admission price is $10 per person and the trail will be open from 6:30pm to 10:30pm. More information can be found on the event's facebook page, linked here:

https://www.facebook.com/events/middletown-sports-complex/haunted-trail/2355770031418279/

.

Brookdale Haunted Theater:

This year marks the 17th year of Brookdale's Performing Arts Center's Haunted Theater, an attraction that has long drawn attention and praise from members of the community and beyond. Brookdale's Haunted Theater is run by students, faculty, alumni, and local community members and is regarded as one of the scariest Halloween events in all of Monmouth County. This year's theme is Area 732 with a play on Area 51; participants can expect to be terrified as they adventure along the inter-connected mazes haunted by zombies, witches, clowns, and many more twisted creatures. The course takes about twenty minutes and will run through rain or shine, for around three weeks in October. Tickets are ten dollars and can be purchased at the door. Nightmares may occur from this point on, proceed with caution!

http://brookdalehauntedtheater.com