Secondhand Shopping in Monmouth County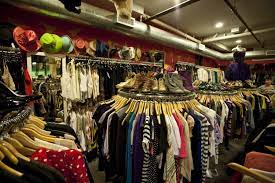 Some scientists are saying that we are running out of time to reverse the alterations that climate change has made upon the Earth. Knowing this information everyday people should be doing as much as they can in order to help. Making these changes can be difficult, as we have gotten so used to our unsustainable ways of living. However, there is one small thing that anyone can do to make a difference and reduce their carbon footprint; secondhand shopping. Thrift stores and consignment shops are all around, and you may not even realize. Not only is second-hand shopping a great way to reduce wasteful purchases, but it is also a great way to find amazing, unique items. Buying second-hand helps keep plastic out of landfills, which decreases the waste in the textile industry. Buying secondhand decreases the impact of Fast Fashion, which is the mass production of cheap clothing made unsustainably, usually through child labor. In addition, secondhand shopping is also cheaper as the items are never full price! 
Pearl St. which is located in Red Bank is a consignment shop but they design custom pieces as well. They aim to create an aesthetically pleasing environment with one-of-a-kind items. We interviewed the owner and founder of Pearl St., Emily Natale, on the importance of second-hand shopping as well as the hidden gem that is her store.
How did you get into shopping/working for a sustainable company? 
I started working in the fashion industry after I went to school. I wanted to do something with more freedom and creativity.
Why do you feel shopping sustainably is so important to the world we live in today?
It is so incredibly important. The environment needs us to shop secondhand instead of fast fashion.
What is your favorite part about Pearl Street?
To see people come in and have a fun time with fashion [and] to have a place where people feel like they can be themselves.
What is one thing you wished people knew about second-hand shopping?
That it helps you develop your own personal style. Instead of having things designed for you, you find things that speak to you. It is like a treasure hunt and the clothing feels more special.
What is one thing you have learned about the fashion industry since starting your career?
It's ever-changing and anyone can be in it, just think outside of the box.
We also interviewed Cape Miele, an employee at Back on the Racks, which is located in Ocean, NJ. Back on the Racks is a consignment store where you can bring your gently used items to make a profit. Cape started working there after a friend recommended the store, but she absolutely loves her job. She cleans the store, organizes the sales floor, and helps customers with whatever they may need. 
Why do you feel shopping sustainably is so important to the world we live in today?
I think second-hand shopping is more important than ever. Global warming has affected the planet in so many horrible ways and we will only continue to damage the environment if we don't change. Buying clothes, accessories, furniture, and home decor that are in perfect condition has so many benefits, but the biggest one of all in my opinion is that it is super environmentally friendly! Also, second-hand shopping supports local businesses, gives some profit back to the original consigners, and allows everyone accessibility to trendy products! With the current pandemic, people are facing financially difficult times, and second-hand shopping makes shopping easier for everyone no matter what. It's usually sold at a cheaper price. Overall, there is no downside to second-hand shopping, and I'm so glad more people are looking into it! 
What is your favorite part about Back on the Racks?
Definitely getting to interact and meet so many wonderful people! Everyone who works at the store is so friendly and easy to talk to, and I have also met so many wonderful customers! It's great getting to know the regulars and welcoming newcomers to the store! I also have a lot of respect for the fact that Back on the Racks is a female-owned business. I admire Christine (the owner) and how far she has come! 
What is one thing you wished people knew about second-hand shopping?
I really wish people knew [that] there is absolutely no shame in purchasing used items. As I discussed earlier, there are way more benefits to second-hand shopping than buying from big bad corporations, and why spend $100 on something you could find an exact replica here for $20? There's always something for everyone at our store, and it makes me so happy to see people find items that make them happy.
What is one thing you have learned about the fashion industry since starting your career?
I have learned that the fashion industry should make their clothes more accessible to everyone, regardless of class. Fortunately [here], all types of clothing are priced fairly for both the consigned and the customer, so everybody has a chance to buy something that they look and feel great in. In addition, Back on the Racks is a great example of how fashion constantly cycles back into style! What was popular last year may very well be popular some time again!
Secondhand shopping allows you to expand your style with a variety of different types and eras of clothing. We both love to get our clothes at thrift stores, consignment shops, or antique stores because we know the pieces are one of a kind. It also helps combat the negative effects of fast fashion, as fast fashion has a huge environmental footprint. Clothing production uses a significant amount of the earth's resources such as water. Many articles of clothing produced through fast fashion end up in landfills, polluting the environment. Not only does the environment benefit from sustainable fashion, but so does your wallet and your closet. 
Here are some of our personal favorites we have found recently: 
Vintage Sweater bought at Monmouth Street Emporium!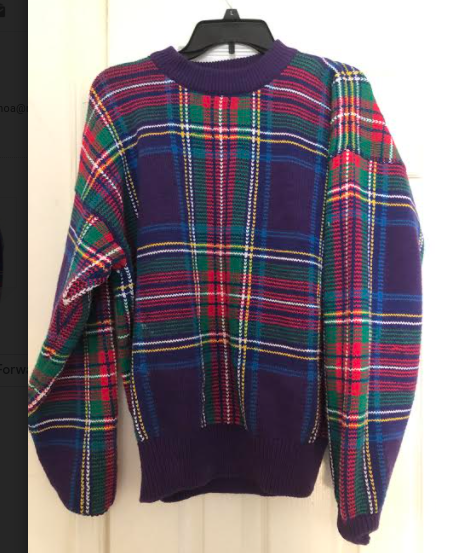 Green plaid dress from Booth26B in Red Bank.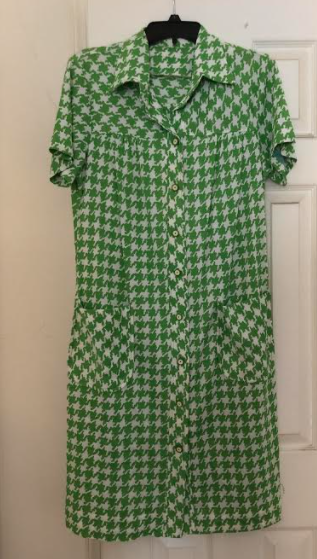 Heart and spade patterned pants from Pearl St. in Red Bank.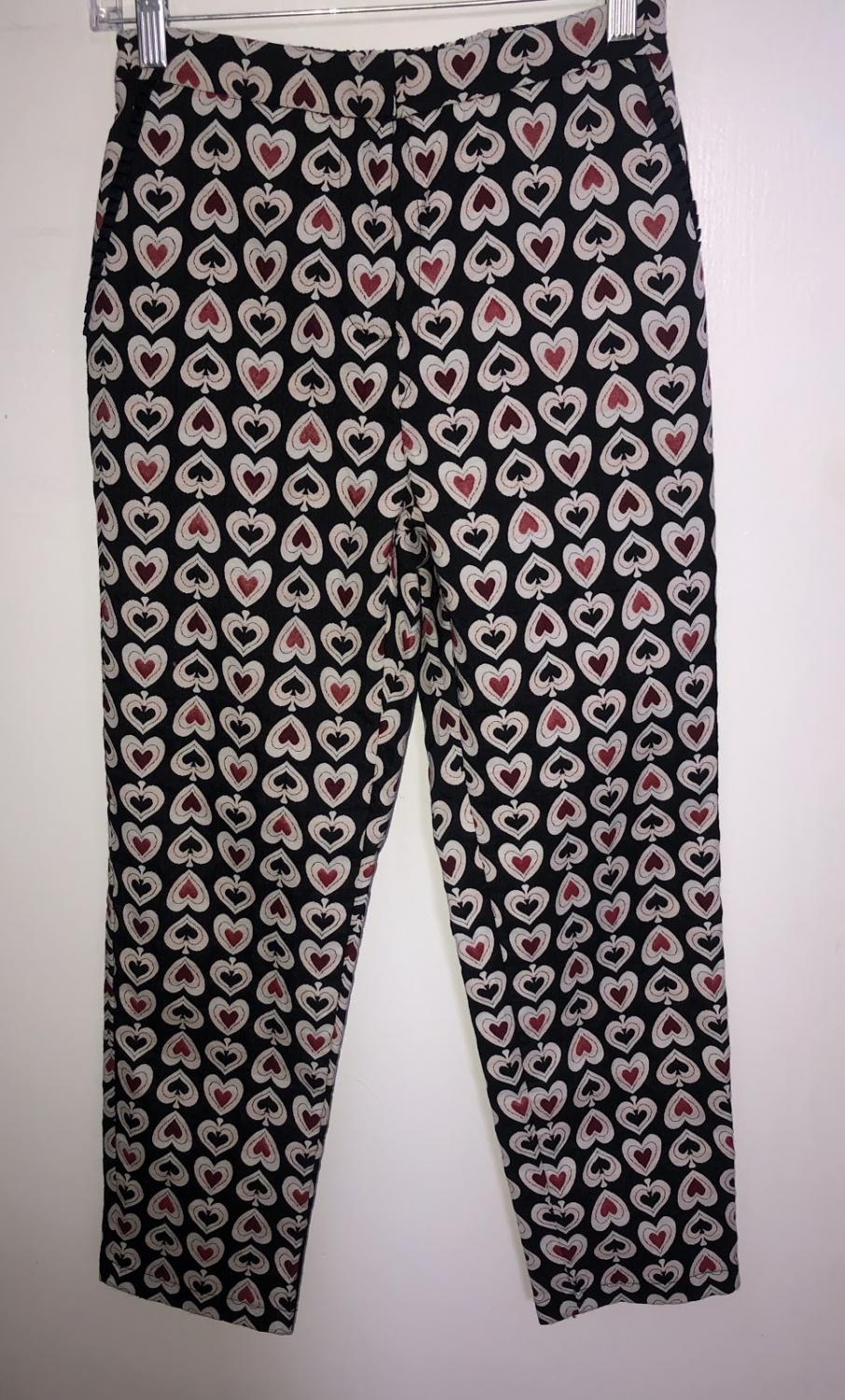 Black leather jacket from Red Bank Antiques.