Students Voice Concerns at Board Meeting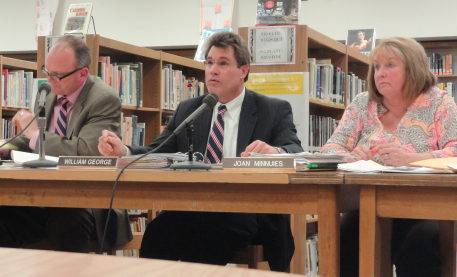 On the night of Tuesday, May 27th, a Board of Education meeting was held at Middletown High School North's Library. The meeting followed a recognition ceremony in High School North's auditorium where students all across the district were honored for their academic as well as extracurricular achievement, including outstanding SAT scores and involvement in a middle school underwater robotics club. The meeting afterward was attended by 25 High School South students who wished to share their thoughts and concerns with the Board, an effort led by senior Aisha Bhoori. In the interest of the students' time, Dr. William George, Superintendent of Middletown schools, altered the agenda of the meeting to accommodate the students and allow their thoughts to be heard at the beginning of the public portion of the meeting, whereas the allotted time for this sort of expression would usually be held at the end of the meeting, which could have been as late as 11 o'clock that night.
When the time came for students to speak their minds, all 25 of the students approached the podium at once. Each of the students had prepared a letter addressed to the Board, and a copy of each letter was made for each Board member. As the reading of each letter commenced, a clear and common theme emerged from them: praise for Jonathan Colavita, one of South's English teachers, in response to his recent resignation. Bhoori stated in her letter that "Mr. Colavita has combusted positive change within our pedagogy, kindling a wildfire of enlightened minds and fulfilling education's true purpose as the source of inquiry."
After three other students, juniors Joe Ferrara and Anna Connor and senior Nicole Valente, read their letters aloud to the Board, Dr. George commended the students on their tastefulness and their impressive scholarship, and assured that each Board member would read every letter and address the concerns of the students. The students came to an agreement with the Superintendent on a meeting in the near future in which he and Principal Rinella would help to address the concerns of the students, not just regarding the resignation of Mr. Colavita, but in an aim to  expand the role of students in educational decisions and reforms.  The meeting has yet to be scheduled or organized; its results will be covered by the Eagle Eye.
Leave a Comment