South's Own Chris Falzone Signs with New York Rangers For a Day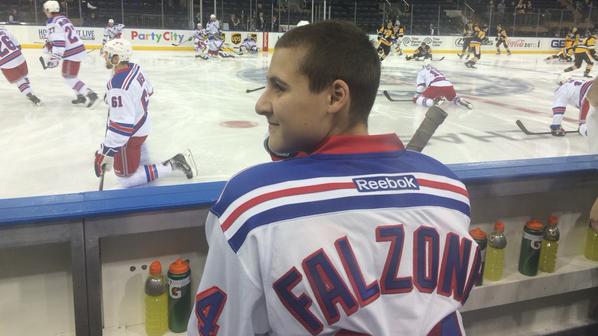 Sophomore Chris Falzone was given the opportunity of a lifetime when he was invited to practice and participate with the New York Rangers last week. Chris has been battling a rare form of bone cancer for the past year, and he proves his doctors wrong every day when he practices with his travel hockey team after enduring and completing his necessary treatment. The Rangers' "Garden of Dreams" foundation, in association with the New Jersey Make-a-Wish Foundation, gave Chris this opportunity with his favorite hockey team, as he skated with the players he watched on TV every night during his recovery. Not many Rangers' fans can say that they were able to take a shot on Henrik Lundqvist; even less of them can say they scored. Chris can now join both of those exclusive clubs, as he put the moves on the "King" and was able to get one by him.
Chris's special day continued when he was able to take the ice with the Rangers that night, in a crucial regular season game against the Boston Bruins. Chris was introduced on the ice before the game, and he was given the ceremonial "broadway hat" after the game, a traditional Rangers' pseudo-award given to the best player after each game. Chris's camaraderie with the team was remarkable, as he fit in perfectly with his favorite players. After so many months of the Middletown community supporting Chris in his fight, you can't help but smile at moments like these.
For a video of Chris's tryout with the Rangers, follow this link: http://www.blueshirtsunited.com/video/chris-falzone-skates-rangers
Leave a Comment