The New Jersey Marathon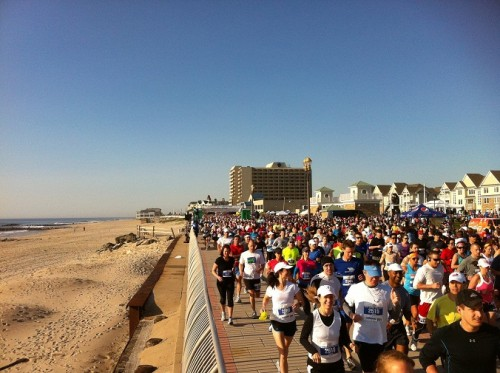 Sunday April 26th. 11,000 marathon and half marathon runners took off from Monmouth Park Racetrack in Oceanport, New Jersey for the 19th Annual New Jersey Marathon. The race started at 7:30 am, and runners navigated their way through Monmouth Beach, Long Branch, Deal, Loch Arbour, Asbury Park, Ocean Grove, and crossed the finish line at the Long Branch Promenade.
Thomas McConville from New York was the overall winner with a time of 2 hours 32 minutes and 30 seconds. McConville came in nearly two minutes ahead of second place winner Ryan Smith from Boulder Colorado, and nearly 3 minutes ahead of the third place winner Michael Arnstein from Kailua, Hawaii.
But the race is not only fun for the participants and spectators, but also does a lot of good for the community. According the the NJDot "There was an economic study done through Temple University that determined, conservatively, that the race contributes over $6 million to the local economy which is a lot for the quiet time of year here," said race director Joe Gigas, adding that area businesses are very welcoming to the marathon crowds. "The Jersey Shore in the summer is a great place to be. So these (businesses) are used to large crowds and they know how to support tourism."
But businesses aren't the only ones who look forward to the marathon each year.
"As soon as the athletes start running in Oceanport, there are people who set up tables in their yards and handout water or play music to support the runners. There are homes in Monmouth Beach that have a party in their yards every year on the day of the race, and in places like Long Branch, Asbury Park and Ocean Grove there are a lot of people along the course cheering on the runners and holding up signs."- NjDot