South Graduate Signs to Chicago Bears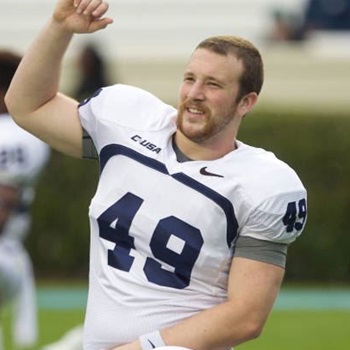 The signing of new players does not end after the seven rounds of the NFL Draft. Undrafted players wait anxiously by their phones after the draft, hoping for a call from a team. For South graduate Rick Lovato Jr. (Class of 2011), the end of the draft brought good news. Lovato Jr. was the long-snapper for Old Dominion University and is currently completing his last final exams as a college student.
Lovato Jr. will be the long-snapper, a unique special teams specialist, for the Chicago Bears, a team ready to reestablish its dominance in the NFL. The position of long-snapper is intriguing – fans only hear about the position if he screws up, he is expected to perform with 100% accuracy 100% of the time. Long-snappers generally last longer in the NFL than most players since the position does not require as much physicality as other positions, allowing long-snappers to be as efficient at 35 years old as when they are 23 years old. Lovato Jr. was considered the best long-snapper in the draft, yet due to the longevity of most long-snapper's careers, only a few slots are empty each off season.
Lovato Jr. is the son of Rick Lovato Sr., a wrestling legend of South who won the wrestling state championship in 1980. Lovato Jr. has certainly continued the Lovato legacy in South and will continue to represent his hometown in the NFL. Good luck, Rick!