Media Center Brings Coding to South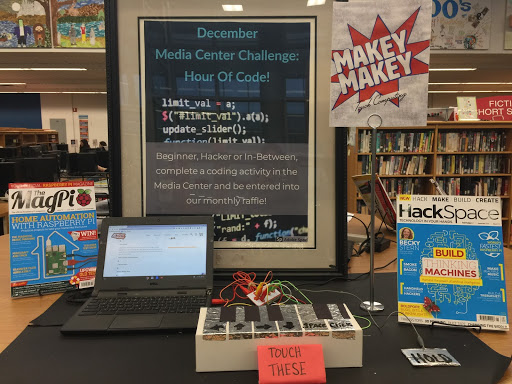 Hang on for a minute...we're trying to find some more stories you might like.
     Starting out in the fall of 2017 as South's very own media specialist, Ms. Nagy has drastically transformed the ways in which MHSS students interact with the media center and all it has to offer. As there has been a global shift that has beget a generation of near-native technology users, the media center has reflected this through its growing technology presence. But, as technology is an ever-changing language whose parameters of fluency are ever-fluctuating, it is crucial that students are literate in the most up-to-date programs so as not to be left behind. That is why this newfound stress on media center involvement, demonstrated through a stronger volunteering encouragement and monthly participation events, is so important. For the past two school years, Nagy has organized a media center challenge every month for students to participate in, the school offering the incentive of a $50 Amazon gift card for each month's winner. With these challenges, Nagy hopes "to involve the whole school in activities involving different aspects of media."
     Every year, a week of December is recognized as Computer Science Education Week, a week in which schools around the world, including ours, host the Hour of Code, a school-oriented annual coding event that allows students to familiarize themselves with the useful skill. As our world modernizes, computer science has become increasingly alluring to those seeking out higher education. According to Forbes, computer science ranks #1 on the list of college majors with the highest starting salaries, supposedly averaging out to $66,800. For those who are interested in participating, simply go to code.org and complete the Hour of Code, the certification for which you must print out in order to submit to be considered for the prize. 
     Overall, Nagy holds high hopes with the media center, stating, "I really want the media center to be a place that students think of as their space and so I want it to be comfortable, I want it to be a resource for them for academics, I want it to be a place where they think they can relax or check out books to read. And I also want it to be a place where they can work with technology or create things in our Makerspace. I just really want the media center to be a place for students."