Back in the Attic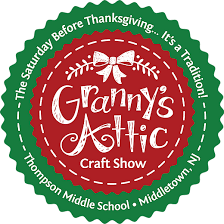 Thanksgiving and the holiday season are a wonderful time for tradition and spending time with those you love. Granny's Attic is one of Monmouth Country's favorite traditions that has become a major holiday pastime over the years. It takes place at Thompson Middle School each November and is an extremely popular and important event for the Middletown community. This year, it was the 40th anniversary of the Granny's Attic craft show. 
On the Saturday before Thanksgiving, each year, families and friends gather to buy homemade gifts for their loved ones. It is an amazing experience to take part in, allowing attendees to get in the holiday spirit, do some holiday shopping, and enjoy the company of others. Granny's Attic offers everything from baked goods to handmade jewelry and clothing, as well as housewares, Christmas decorations, and unique gifts. This event is also a PFA fundraiser, so the profits from sales directly benefited Thompson students and faculty. 
If you missed out this time, make sure to keep an eye out for the annual event next year, as it is a great way to kick off the most wonderful time of the year!