Ketanji Brown Jackson Joins the Supreme Court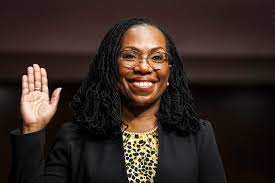 On April 7th, 2022, Supreme Court Justice Nominee Ketanji Brown Jackson was confirmed to become the 116th Supreme Court Justice. The Senate voted with 53 yeas and 47 nays, in which 3 GOP senators crossed party lines to vote for her. 
She is replacing Justice Stephen G. Breyer (D) who was appointed to the Supreme Court in 1994 by Bill Clinton. He will be retiring at 83 years old after finishing his term this summer.
Though her confirmation will not have an impact on the party balance, which currently stands with the Republican party, it remains an important milestone for the Supreme Court. Jackson was the first black woman to be nominated to the Supreme court, as well as the first to be confirmed. The Court will become ⅓ people of color. Furthermore, the Court will become 5 men and 4 women, which is significant considering the Court has been as unbalanced as only one woman in 2009. 
At age 51, she has extensive experience in United States law. Jackson graduated from Harvard magna cum laude in 1992 with a bachelor's in law and also was an editor of the Harvard Law Review. In 1999, she worked as a law clerk for Breyer and also worked on the U.S. Sentencing Commission as both the Vice-Chair and Commissioner in order to help shape sentencing policies. She also has a considerable background as a criminal defense attorney; she worked at the federal public defender's office in D.C. for over two years representing indigent clients in criminal cases as well as detainees held in Guantanamo Bay, Cuba. 
Her substantial history and knowledge offers a well-rounded perspective and understanding that President Joe Biden believed would serve well unto the needs of American people. In fact, the White House website states that Jackson has, "exceptional credentials, unimpeachable character, and unwavering dedication to the rule of law." In many ways, Jackson's confirmation to the Supreme Court is a historical first.