Middletown Ice Hockey Teams Raise Funds for Cancer Research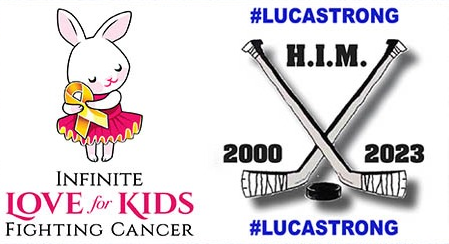 Any community has the ability to rise above a tragedy. Middletown did that on January 31, 2023, when the Middletown South and North JV and varsity hockey teams raised funds for pediatric cancer in memory of hockey fan, Luca Iacono. 
Luca passed away on November 17, 2019, after fighting Alveolar Rhabdomyosarcoma, a cancer of the soft tissue, for two years. He was only 11 years old when he passed. Just four years later, 88 local hockey players designated their January 31, 2023 games a gold out — a fundraiser to raise money for pediatric cancer research. The teams paired with Infinite Love For Kids Fighting Cancer, a Middletown-based nonprofit. According to the event's website, Infinite Love's mission is to unite and give back to the community by raising funds to "stand up against pediatric cancer and raise much-needed funds for research and support." As of February 5, 2023, the event has raised over $27,000, surpassing its goal of $25,000. This money will fully fund a research grant in Luca's name. 
The game was well attended by hundreds of members of the Middletown community, including Mayor Tony Perry, members of the Board of Education, teachers, school district staff, Luca's parents (Michele and Frank Iacono), and two of Middletown's most resilient citizens: RJ Ferguson and Brady Waltz. Ferguson, a fourth grader at Nut Swamp Elementary, is currently fighting acute lymphoblastic leukemia. Waltz, a fifth grader at Leonardo Elementary, has been cancer free for two months. 
If you missed the game, you can still donate to Luca's fund by visiting https://www.flipcause.com/secure/cause_pdetails/MTczMzcy until Friday, March 3, 2023.