The Game's Not Over Until it's Over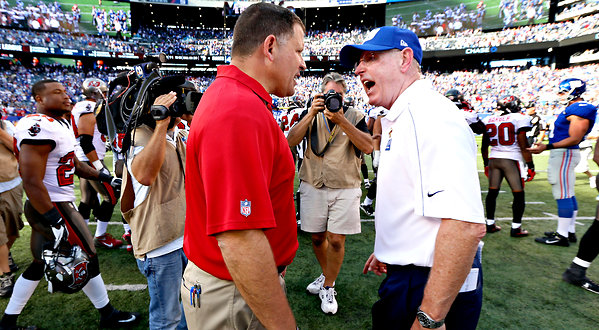 Ian Warren, Staff Writer
October 21, 2012
A football game only lasts 60 minutes, so why not play until the final whistle? Research shows that of those 60 minutes, the ball is actually in play for only 12 minutes and 8 seconds. Why not play those last 5 seconds if the game is within one's possession?  This is exactly what Tampa Bay Buccaneers coach Greg Schiano did, during last week's Giants-Bucs game.  Schiano's team trailing by 7, on the final play he made one last desperate play to try to win the game. He told his defensive players to crowd the ball and try to knock the ball loose.
Giants coach Tom Coughlin, as well as other coaches, believed this was cheap, and that the game was already won. If Coughlin really believed the game was already won,  he would not have had a running back 7 yards in the backfield. If he really believed nothing could go wrong, he would have put this running back up on the line with everyone else. He should have called a timeout when he saw the Buccaneers lined up in an aggressive formation. He could have called a different play to protect his players' safety.
Coughlin should know that games can easily be won in the final seconds of a game, as it has been done twice to the Giants by its divisional rival, the Eagles. Once, back on November 19, 1978, cornerback Herm Edwards picked up a botched handoff and ran it back, winning the game 19-17 on the final play of the game.  It happened again two years ago when Desean Jackson ran back a punt that was supposed to be punted out of bounds to win the game 38-31.
Not only are games won in the last few seconds at the professional level, but also at the collegiate level. One of the most memorable plays in the history of college football is called "The Play."  University of California trailed Stanford 20-19 when Stanford lined up for a squib kick to end the game. What happened next was a miracle. California returned the kick for a touchdown, while the Stanford band charged the field thinking the game was over. The Golden Bears overcame almost impossible odds to shock Stanford and the entire college football world. Schiano has taught this never give up mentality to his players at the collegiate level as well.
It worked twice for Schiano's team while he was at Rutgers.  It worked twice back in 2009 against both Pittsburgh and West Virginia, using the same play. It was a play that he preached to his collegiate players, and now he has transferred this idea of never give up to his professional players. His last second attempt was not a secret, and if Coughlin had watched the film, he would have informed his players to watch out for this last second attempt.
Coughlin and other coaches around the league were infuriated by this decision by Schiano. Most coaches around the league expect the other team to just lie down and let them knee it to end the game. However, Schiano's decision did not break any real rules and was perfectly legal. Why should Schiano treat the last five seconds of the game different than any other five seconds of the game? If teams believe that the game is over with 5 seconds left, why not give up with 20 seconds left?
Schiano's decision was perfectly legal. Professionals play football to win, not to give up in the last five seconds. No matter how bleak victory seems, they should always play until the final whistle.