Whales Belong in the Wild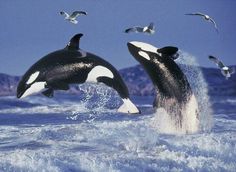 Hang on for a minute...we're trying to find some more stories you might like.
How would you enjoy being trapped in a bathtub sized tank alone, and being forced to perform in front of thousands of people, often several times every day?  We all love marine life like dolphins and orca whales.  They are majestic, beautiful, and absolutely captivating to watch in the wild, so it really is no wonder why so many people visit SeaWorld parks each year.  However, most are blissfully unaware of the harm that they are financing simply by visiting these establishments.  SeaWorld is detrimental to the animals that are held there, puts their employed trainers in life-threatening situations regularly, and further teaches its spectators, particularly the impressionable children that commonly frequent the park, that exploiting others is acceptable as long as it is in the name of human entertainment.  With each of these points in mind, people should reconsider their support of SeaWorld.   
To start off, contrary to popular belief, SeaWorld is in no way a conservation organization; in fact it has proven to be the complete opposite.  According to SeaWorld of Hurt, "Orcas in the wild have an average life expectancy of 30 to 50 years… the average age of death for orcas who have died at SeaWorld is 13 years old" (8 Reasons Orcas Don't Belong at SeaWorld).  Orcas in captivity are known to suffer from a variety of health problems, including but not limited to poor oral health, collapsed dorsal fins, psychological issues, and premature mortality.  The animals will often try to break through their concrete and metal tanks using their own teeth, out of anxiety or boredom, which causes great damage to the mouth and jaw.  Collapsed fins result from the lack of space these mammals have in SeaWorld tanks and is considered a sign of an unhealthy whale by biologists.  There have been 45 reported orca deaths at SeaWorld.  In addition to the staggering physical concerns orcas face living in SeaWorld, they also experience mental trauma from their highly demanding environment as well as a blatant lack of meaningful stimuli, which often leads to psychosis and excessive aggression (also referred to as "zoochosis").  It is believed by many biologists that zoochosis is the root of orca on orca, and orca on human attacks.  
Another big problem with the practice of holding orcas in captivity is that it endangers its animal trainers.  Since Sea World's opening, there have been more than 100 incidents in which a trainer was injured or killed, and yet still, SeaWorld allows trainers into orca tanks in order to "help trainers and whales form a stronger relationship."  The Occupational Safety and Health Administration (OSHA)  has deemed this action entirely unsafe, and according to an article by Simon Worrall, this carelessness is likely what caused the tragic death of SeaWorld trainer Dawn Brancheau in 2010.  While trying to bond with a whale in the pool after a show, Brancheau was grabbed by the leg, held underwater, dismembered, and eaten.  Had there been stricter regulations about how trainers interact with whales, Brancheau's death could have been prevented.  SeaWorld's continuing policy to allow trainers in tanks puts their staff members in harm's way every day.  There are, however, no known human attacks by orcas in the wild.   
Finally, SeaWorld delivers the destructive message that it is alright to abuse others for a personal gain.  By unnecessarily keeping wild animals in captivity, people are given the idea that profit is more important than ethics.  This also serves a distorted educational value for children, suggesting that animals like orcas and dolphins originate in pools rather than oceans.  One may argue that going to SeaWorld and other establishments that hold animals captive like zoos and circuses, is just tradition, but what are we teaching the next generation?  In the long-term, these concepts are the ones that instill a disregard for the environment as a whole.  It encourages people to take from nature as much as they want as long as they can earn from it, but this human interaction has been depleting our planet for decades.  
In closing, SeaWorld is absolutely toxic to its animals, staff, and audience.  It hurts the orcas and various other marine life trapped within its tanks, risks the lives of its trainers, and demonstrates to onlookers that the suffering of a group is tolerable and justified if it is beneficial to another group.  One can only hope that those who enjoy vacationing at SeaWorld reevaluate this choice when they realize the suffering and damage they are funding.