Student Access to School Wifi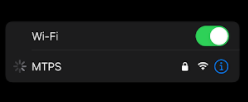 With students often experiencing computer outages and issues, many simply use their phones to do their work in class. But since they are not given the school Wi-Fi, it's almost impossible for them to use their resources during classtime. 
Throughout South, the Wi-Fi often works very slowly or not at all, which can make it extremely difficult if someone needs to get in contact with a classmate who may not be in school. Additionally, the Wi-Fi is necessary when editing projects on apps such as iMovie, doing classwork, or watching videos for class. 
"Sometimes my Chromebook randomly shuts off and won't work. When I try to use my phone to do my work I can't connect to the school Wi-Fi," said one junior, who asked to remain anonymous.  
Not only is the school Wi-Fi vital for doing school work, but it could potentially be a safety issue. Lack of internet connection throughout the school could be dangerous in case of emergency. Text messages and phone calls may fail when sent in most parts of the school. Having the school Wi-Fi is crucial if students need to get in contact with their loved ones in time of emergency. Personally, I'm someone who texts my mom often throughout the day, so to not have the Wi-Fi makes it hard to communicate with her when I need to. 
"Sometimes I worry I won't be able to text my family if there were to ever be a school tragedy or something," said another junior.  
Students should not have to worry about their safety when going to school and not being able to communicate with loved ones. We should not have to rely on teachers or the office to get in contact with parents or other family members.
*all opinions are those of the writer and do not necessarily reflect the views of The Eagle Eye