Catching Fire Review
After winning the 74th Hunger Games, Katniss Everdeen (Jennifer Lawrence), and Peeta Mellark (Josh Hutcherson) return to their home in District 12, the poorest district in their autocratic dystopian country of Panem. I personally find the distinct social hierarchy amongst the different districts and the Capital to be fascinating. The two victors must reunite to start their "Victory Tour", which entails telling the other districts about their experiences in the Hunger Games. But unexpectedly, their leader, President Snow, vindictively tells Katniss that because she had broken the rules in the previous games, and stirred rebellion in the districts, she would be returning to the arena.
The film has a combination of fantastic computer generated imagery, mysterious plots, and amazing cinematography. If I were given the opportunity, I would give the director of this film, Francis Lawrence, the Best Director Oscar. I loved this movie, and watching it with friends made it even better. Throughout the movie, I expected there to be a "straight line" in the plot, however, when I lowered my guard, there was an unexpected chain of events.
Another thing I loved most about this film is its wonderful use of animation and vivid effects. Throughout the movie, the participants in the 'game' are subjected to different changes in weather, toxins, vicious animals, and an overall change of events in the dome which they are fighting in.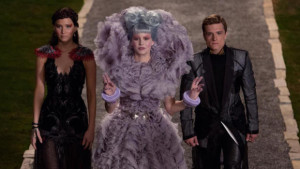 Thanks to Wiress, a technology and science genius, the tributes are able to figure out the significance of the occurring events. She kept repeating the words "tick tock" until Katniss realized Wiress had identified the pattern within the arena as being a "clock." The threats to participants were released on a regular basis according to the "clock" format. For example, a huge flood, crows following a participant, making them temporarily insane, and my favorite, toxic gas which caused severe burns on the participant would happen at certain hours. All of these threats pressured the participants, who were frustrated and frightened, to "hurry up and die already". The viewer is then completely taken off guard with a supremely shocking curve ball ending.
This film was one of my favorites for the time being, and I don't think I'll see a fantastic rendition like this until the next "Hunger Games" movie comes out. I would give this movie a perfect 10/10, for genius computer generated imagery, fantastic cinematography, and the unpredictable plot. Who won the Hunger Games? Watch it and find out!