Middletown Hockey Teams Face Off in Thriller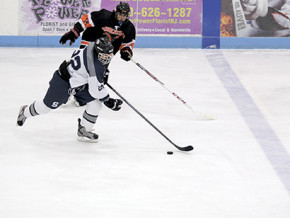 On Friday December 5th, 2014, Middletown High School South faced off with cross town rival Middletown North in hockey for the first time this season. With packed seats and supporters from both sides of town, this contest was shaping up to be an absolute thriller, and that is exactly how it played out.
Although Middletown North has been notorious for sustaining a more successful hockey program in recent years, Middletown South jumped ahead early in the first period. A power-play goal scored by senior Brandon Shulman and assisted by fellow senior and captain Wes Friberg gave the Eagles a 1-0 lead early on. After a shaky start, the Lions of Middletown North regained their composure quickly and piled on four unanswered goals, giving them a 4-1 lead.
However, the game was not over yet, as Middletown South responded with two goals of their own, scored by senior Wes Friberg and sophomore Ryan Lambert to make the game 4-3 and cutting the deficit. Things got chippy during the third period, as controversial penalty calls and frustration resulted in the ejection of Middletown South senior Brandon Shulman. Many fans in attendance began taunting the referees for the decisions they were making, and a reign of boos poured throughout Middletown Ice World. Middletown North scored an insurance goal late in third period to make the game 5-3, which it stayed until the clock expired.
Despite their outstanding effort against a very talented North team, Middletown South was not able to earn a win . However, this was a very entertaining game between two Shore Conference foes who both look like they can make a serious splash throughout the regular season. Only time will tell, but one thing is for sure: this was a nailbiter of a contest, even if the result was not what Midd South Nation had hoped for.
Leave a Comment