The Ultimate Guide to Last Minute Valentine's Day Gift Ideas
Need a gift, like, right now? Here, a few that will save the day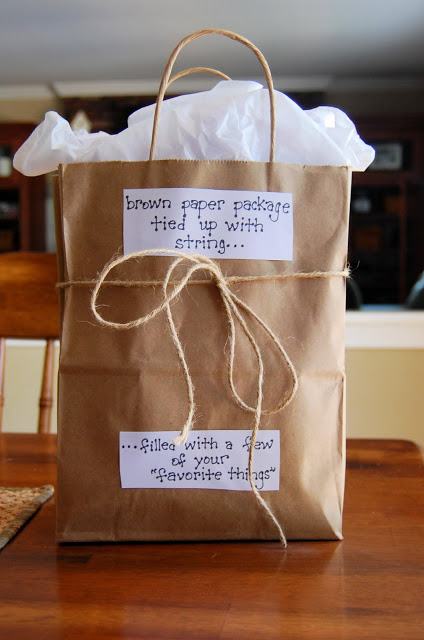 It's Valentine's Day. It is a simple mistake, it really is, you see you didn't really forget, but…umm.. You have just been busy and… well, it seems that you didn't get a gift for that special someone, whether it be your best friend or your significant other. Another problem, well, you don't have that much money. Now, you are in a real pickle. With less than a couple hours until your plans commence and only $10 in your wallet, it seems as if there is nothing you can do. Have no fear, this a list of five easy DIYs that can cost you under $10 and be done in minutes!
Gifts for Your Significant Other:
My Favorite Things
   Sometimes instead of one big gift, an array of tiny ones can really show you care. A play on the Sound of Music's "My Favorite Things," this gift can show someone you know what they love.
How to Make:
Get a brown paper bag from your cupboard. (If you don't already have them you can run to the store to get them for a couple of dollars)

Take some twine or string, or whatever you have lying around the house.

Next, take a trip to the your nearest Five Below, and pick out some of your favorite items, that this person would like, such as

Bath Bombs ($3)

Ceramic Succulent Holders ($3)

A set of face masks ($5)
(Now, these are only suggestions. You could go anywhere that you think would have things that she would like, and the thing is to just buy like three or four little things!)
Take your items, and tie a bow with the twine/ribbon around each item and place them in the bag.

Lastly, on a white piece of paper write out, "brown paper packages tied up with strings…filled with a few of your favorite things…" and place it on the bag with some twine wrapped around the center while filling the top of the bag with some tissue paper if you have some.
My SWEETART, You are EXTRA Special to Me
Now, everybody loves chocolates. This Valentines day give the ultimate valentine by writing out a message, strategically replacing words with candy bar names! This is a inexpensive (and delicious) way to show you care with a heartfelt message and some good ol' sweets.
How to Make:
Write out a draft message (Ex: "I may be an AIRHEAD but we can be NERDS together") making to include some words that can be replaced by candy bars, like "sweet tart" or "butterfingers." Make sure to get creative and use plays on words. Overall, just strive to make it sweet and funny!

Now, run to the store and pick up some individual candy bars, from the front of the store, which normally go for $1-2 a piece.

Also purchase a poster board which you can pick up at Michaels for $1.99.

Lastly, grab some markers and write out your message on the poster board and every time you are supposed to write a candy name, place the actually candy down with hot-glue or some tape. Make sure to  get creative with the fonts and colors, and really make it you!
Letters of Love
What's even better than a heartfelt text? A heartfelt letter! This is an easy way to express your love for your significant other without spending a dime.
How to make:
Get ribbon and markers

Get a few sheets of lined paper and the same amount of envelopes

Write "Open When…" on each envelope (Ideas: It's Valentine's Day, You're Sad, You need to know how much I love you, It's Your Birthday, You Miss me, etc.)

Now write a corresponding letter for each idea!!

Tie the letters up with a bow, and surprise someone with your thoughtful notes.
Gifts for your Best Friend:
A Gift for your GALentine
This gift doesn't even really have to be for Valentines day, it could just be to show your friend you love them. The best part? Most of it (if not all) you will already have at home.
How to Make:
Get a Mason jar ($1.50)

Get four different colored paper or highlighters.

Cut the paper into small strips.

On one piece of paper, write out a message on your friendship, and under it write a key, showing that one color stands for "I love how…," one stands for "Quotes," one stands for "Reasons I love you," and one stands for "Remember When…"

Now, on the strips start filling them in with the said things, and color coding it whether it  be on that colored paper, or you just highlight/ color some of the paper so the color can be seen when it is folded and in the jar.

Once you are happy with how much you have, fill the jar with the paper and tape/ glue the message to the outside of the jar and you're done!
Think Pink
What's the first thing that comes to mind when you hear Valentine's Day? Maybe it's chocolate or flowers, but for many people it's simply the color red or pink! Show how much you love your best friend with a color themed gift bin!
How to Make:
Get a small pink or red colored bin ($3 at Target)

Gather small items of corresponding color ($1-$5 at Target)
Ideas:
Nail polish

Candy/ Chips / Cookies

Flowers

Stuffed animals

Gum

Puzzle

Chapstick
Ideas and images courtesy of Pinterest.