A First Season Full of Success
Middletown's First Volleyball Team Shocks With a Winning 7-3 Record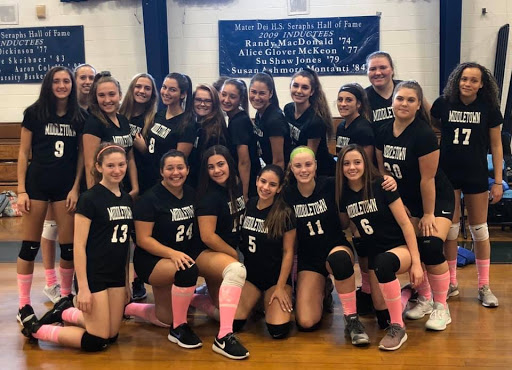 Hang on for a minute...we're trying to find some more stories you might like.
Middletown High School South and Middletown High School North have held a long-standing rivalry since the early 80s. But this year, the time came for the Middletown schools to reunite again, the unlikely duo having formed the school's first-ever competitive girls volleyball team, coached by teachers hailing from both sides of town, Stavroula Kelesidis from Thompson, and Cassia Wellington from North.
This year marked the first year in which South students have had the opportunity to play competitive volleyball, an effort that has long been championed by many within the community. Coach Wellington explained, "The students, parents, and the community were truly the driving force behind creating this team. Students held several fundraisers last year that allowed for the start of this program. Because of all of their hard work, the girls are extremely dedicated to the team and truly care about the program's success." And this passion has been more than demonstrated on the court, the team having ended the season with a 7-3 record, an amazing feat for their first year. But, the girls not only had success on the court, but also off the court too, the girls having established an incredible bond behind the scenes. According to South senior Patsy Lennon, "Our team this year has been so grateful for [this] new experience…being a senior, I am extremely grateful that I get to leave Middletown South on a high with this team and all we have accomplished throughout our first, yet extremely impressive season. The team has built great friendships and bonds between all the players and coaches that will have a lot to live up to the following season next fall." As of right now, the future of the team hangs in the balance, as it is not established whether the two schools will continue as a single, united team next year or break off into North and South. But, regardless, the girls' passion for the team is no question. "The girls are so passionate that when they make a mistake, they can't shake it off," explains Wellington. It's clear the team has established themselves as a formidable opponent and no matter what happens, they will continue to be a team to watch out for next year.