South Lacrosse Team Ready for Inaugural Season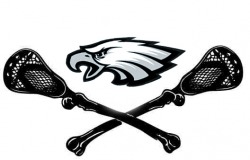 The spring sports season is quickly approaching for the Eagles, with one exciting new addition. For the first time in the school's history, South will field a JV lacrosse team, and to learn more a
Mr. Isherwood has been coaching lacrosse for over 20 years, currently as an assistant at Holmdel High School. He also has coaching experience with Saint John Vianney High School, and Rumson High School. In addition to high school coaching, he took up coaching in the Wall Sports Winter League this year, where his team consisted of many players that will try out for Middletown Lacrosse this spring.bout this development, we talked to Mr. Isherwood, South's resident lacrosse expert.
The team came about as a result of a group of parents pushing the idea to the Board of Education, and after a few years of work, the Board decided that the group had made enough progress to start a team, as long as they funded it separately. This parent lacrosse group then ran many fundraisers over the past year, and despite the setbacks of Hurricane Sandy, they now have the sufficient funds for a team. Mr. Isherwood states that, based on the turnouts of the Winter League and some mandatory meetings that have been held, he expects about thirty students to try out for the team.
The words "try out" are merely a formality, as South will not be making any cuts to the team in its inaugural year. Both teams, boys and girls, will play a junior varsity schedule of about fifteen games this year to integrate their team with the rest of the league, and are expected to play a standard varsity schedule next year.
Mr. Isherwood emphasized that lacrosse is a gentleman's sport, stating that it is a collision sport, but does not involve fights or brawls, but rather, respect for one another. He also mentioned that the winter league that he coached had players from both Middletown North and South, and that they coexisted nicely, adding that the sport will only add to an excellent rivalry between the two schools.
In fact, Middletown South's first scheduled game is on our home turf against the cross town Lions. The head coaching positions will be announced within a few weeks, so stay tuned with the Eagle Eye for more news on the boys and girls lacrosse teams.