Cardinals Claim NCAA Crown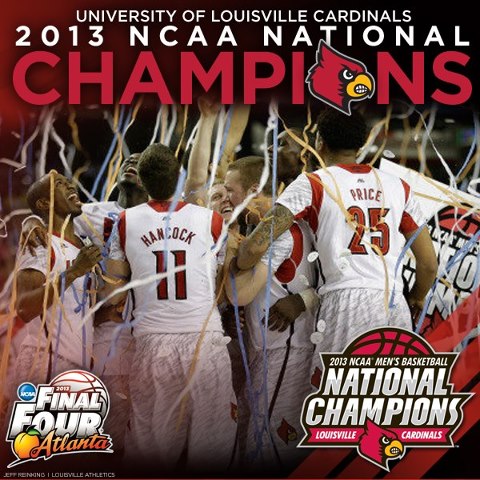 March Madness has come to a close, and it ended in the same fashion that it started, with a bang. The final game featured a back-and-forth battle between two high octane teams, Michigan and Louisville. After overcoming a 12-point first half deficit, Rick Pitino and the Louisville Cardinals claimed their third national title in school history.
The Cardinals' big-stage victory was even more heart-warming after the tragic and gruesome injury to Louisville's guard Kevin Ware in a game earlier in the tournament against Duke. Viewers around the nation described it as one of the worst injuries in sports history, and even the Louisville head coach had to fight to maintain composure at the sight of it. However, as Ware was carefully removed from the court, he urged his team to "just win the game." Fittingly, Ware was given the prestigious honor of cutting down the nets at the championship ceremony.
Unfortunately, one team had to lose as well, and that team was Michigan. The Wolverines were an unlikely pick to make it past Round 2, but they rode through the opening games on Naismith award-winning point guard Trey Burke's unbelievable 3-point shots, and freshman big man Mitch McGary's domination in the paint. They showed an immense amount of talent, but their youth was exploited by a Louisville team that featured many experienced juniors and seniors.
The championship was far from the only excitement in this year's tournament. 15th-seeded Florida Gulf Coast University made it to the Sweet 16 against all odds, taking down a huge favorite in Georgetown in the first round. Florida Gulf Coast is such a new and unknown school that the majority of the players on the basketball team were born before it was founded.  Its student body is about a quarter of the size of Michigan and a fifth of the size of the school's cross-state rival, Florida, that eventually took down FGCU in the Round of 16.
The championship game capped off an electrifying season of college basketball, in which there were six changes in the top slot of the Associated Press polls, proving how wide open the field was. This will certainly go down as one of the most intriguing college basketball seasons in NCAA history.