A Beautiful Mo-ment: Baseball Says Farewell to an All-Time Great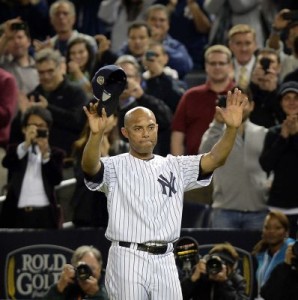 This has been quite a disappointing season for the New York Yankees, as they have failed to make the playoffs for only the second time in the past two decades. However, this season has become an incredibly special one for the Bronx Bombers as it has been announced that their closer of 16 years, Mariano Rivera, will be retiring this off-season. The great Mariano, called "Mo" for short by his team as well as his millions of fans, has the most saves of all time with an astounding 652, as well as enough World Series rings to fill his hand with five. Perhaps the most amazing feature of his record-setting statistics is his arsenal: while other pitchers confuse their batters with a combination of varying speeds, spins, and breaks on their pitches, Rivera has used only one pitch which has baffled hitters for years: the cut fastball.
At 43 years old, not only is Rivera the oldest player in the major leagues, but he is also one of the most effective, saving the third most wins in the American League with 44. The ageless wonder continues to give the Yankees a reliable finish to most tight games even in his final games. With teams well aware of number 42's imminent retirement, the Panama-native Rivera has received an array of gifts as he has made his rounds through the league for the last time. These gifts include a massive sand castle sculpted in his honor from the Tampa Bay Rays, a surf board from the Oakland Athletics, a pair of Yankee cowboy boots from the Texas Rangers, and most creative of all, a rocking chair made of broken bats constructed by the Minnesota Twins (Rivera is famous for his ability to break opposing hitters' bats).
With his last season behind him, Rivera finally came face to face with his last game at the historic Yankee Stadium this past Thursday, September 26.  Although New York was losing, "Mo" was called in to pitch late in the game, and pitched extremely well, as always. With only one out remaining in the game, Rivera was met at the mound by his long-time teammates, Derek Jeter and Andy Pettitte. At the sight of his fellow veterans, Rivera could not contain his emotions any longer; after 16 years of impenetrable composure, tears streamed down his face. Rivera embraced Pettitte and Jeter for a few minutes, then returned to the dugout in tears, tipping his cap to the fans at the stadium that night and concluding one of the most impressive careers in baseball history.