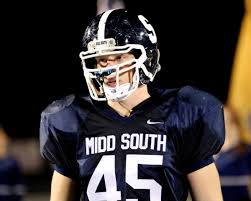 South's football team  was eliminated from the Conference playoffs last Friday in a back-and-forth shootout loss to an impressive 6-win Burlington squad, with a final score of 52-45. South was by no means outmatched, as they led 24-15 at halftime and even boasted a three score advantage at one point in the second quarter thanks to outstanding quarterback play from Senior Kyle Brey and an interception-returned-for-a-touchdown by Senior cornerback Andrew Wisialko. With MiddSouth Nation making noise and the Eagles showing considerable confidence at the end of the first half, it was difficult to foresee the tremendous Burlington comeback which consisted of 37 second half points.
A kick return touchdown paired with some outstanding playmaking ability from quarterback Khalil Trolman made for a historic second half from Burlington to steal the playoff win from a young South team. Despite the comeback, South surged back with a run of their own, scoring two touchdowns within a span of 4 minutes to tie the game at 45 with just 3 minutes remaining. Overtime seemed inevitable until Burlington ran a fake punt play which put them in scoring range and set up the eventual game winning touchdown, a 36-yard touchdown pass with just 26 seconds to go. After almost 100 points of total scoring in this contest, it came down simply to which ever team possessed the ball last.
With the exception of the Homecoming game on Thanksgiving next Thursday, this game capped off the high school careers of many senior players. The aforementioned Brey will end his family's quarterback mini-dynasty after assuming the duties of signal-caller from his older brother, Howie, two years ago. Tight End and Defensive End Taylor Hendrickson, mainly missing from action on Friday due to an ankle sprain suffered last week, will be continuing his dominating football career in college, possibly at the prestigious University of Pennsylvania. Other impactful seniors such as Wisialko, running back Jeremy Concepcion, and defensive playmakers Conner Spreen and Corey Casini will be sorely missed next year.
Despite these key departures, Championship-winning Coach Steve Antonucci has reason to smile at his future roster, as the majority of his starters on defense will be returning next year, and a surprising amount of underclassmen have found their way into a role on the varsity squad. Juniors Nolan Pereless and Pat Crowe show promise for next year's team, and underclassmen Dylan and Cole Rogers, Spencer Pereless, and James McCarthy have made significant appearances under the lights this year. Without a doubt, this season was a fun one that ended with a playoff matchup for the ages, and next year's team looks to be just as good—if  not, better.