Who Really is the Best Quarterback Ever?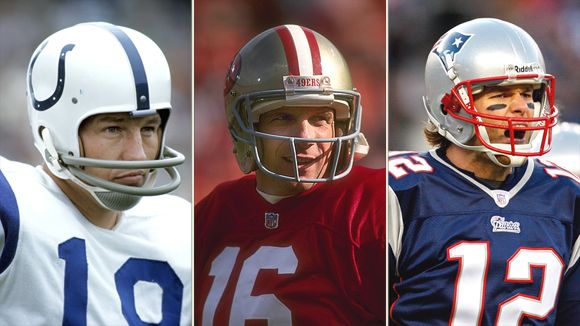 After leading the New England Patriots to a fourth quarter comeback and defeating the Seattle Seahawks in Super Bowl XLIX by a score of 28-24, Tom Brady has reopened the polls to a very controversial discussion: who is the best quarterback to ever play the game of football? There is no clear-cut recipient of this title, but Brady made his case for the honor last Sunday by capturing his fourth Super Bowl trophy in fifteen seasons and earning a third Super Bowl MVP award. Despite allegations in recent weeks accusing Tom Brady and the entire Patriots organization of deflating footballs in order to give New England an advantage over their opponents, Brady has solidified himself upon the throne of the football world. With this topic currently up in the air, it is the perfect moment to discuss the candidates and their arguments for being the best quarterback ever.
The Favorite: Tom Brady
Coming out of the University of Michigan as a name many people had not heard of, Tom Brady was drafted with the 199th pick in the 2000 NFL Draft by the New England Patriots. Brady began his career as a backup for the Patriots, but when starting quarterback Drew Bledsoe went down due to injury, Brady took over as the starter and has not looked back. Winning four Super Bowl Championships over the course of his fifteen year career, Brady has shown an ability to win that few other quarterbacks have displayed. With minimum support and amazing head coach in Bill Belichick, Brady has molded himself into an ultimate winner and football legend.
The Classic: Joe Montana
Joe Montana is one of the few quarterbacks in NFL history that has had as much success in winning as Tom Brady has. Also capturing four Super Bowls and winning three Super Bowl MVP awards, Montana was a pure champion, with a cannon for an arm and some of the best receivers ever. Also considered a steal by the San Francisco 49ers coming out of Notre Dame, Montana produced a legacy that may not be tarnished, unlike Tom Brady.
The Regluar Season Hero: Peyton Manning
Considered to be the best pocket passer in NFL history, Peyton Manning maintains a vision for the game of football that others do not. His ability to stare down targets and make throws with precision and accuracy have made Peyton the player he is today, and ultimately one of the best of all time. The all-time leader in passing yards and touchdowns, Manning has accumulated multiple accolades over his illustrious career, including one Super Bowl. His downside, however, is his less-than-impressive playoff performance. Manning's passer rating of 88.5 in the post season is not necessarily poor, but it pales in comparison to some of his competitors for the ultimate G.O.A.T. title.
The Forgotten One: Johnny Unitas
A ten time Pro Bowl selection and four time NFL champion, Unitas was a staple for the evolution of football during the 1960s. An uncanny consistency and an ability to win have Unitas sitting comfortably at the top of numerous people's lists of best ever NFL players, and there is definitely reason to believe this. Unitas held the record for most consecutive games played with a touchdown pass until this record was broken in 2012 by Drew Brees. With a cannon of an arm and widespread popularity, Unitas made his mark on the NFL and has a solid case for being the best quarterback to ever play.
The Underdog: John Elway
Elway had much success during his NFL career, appearing in five Super Bowls for the Denver Broncos and capturing two championships for the team. Many people consider Elway a failure for only winning two out of the five Super Bowls he appeared in, but the statistics show otherwise. Elways dominated the opposition for a majority of his career and held the record for most Super Bowl appearances at the quarterback position until it was broke by Tom Brady in 2015. A man who once threatened to play baseball for the New York Yankees instead of being in the NFL, it is now clear that Elway made the right decision by sticking to football and growing into one of the greatest quarterbacks to ever play the game.
Obviously, different people have different opinions when it comes to deciphering the best quarterback to ever play football. Mentioned throughout this article are just five of a boatload of gunslingers that may be considered the best, and it is impossible to single out one man as ultimately being the greatest. Football fanatics will continue to argue this subject for decades to come, and some claim that we have yet to see the best of what football has to offer. Who knows, maybe the best quarterback ever hasn't even been born yet. Or maybe he's playing catch with his dad in his backyard right now.