Eagles Game Preview: Week 4
The Eagles will look to reach .500 before returning to The Swamp.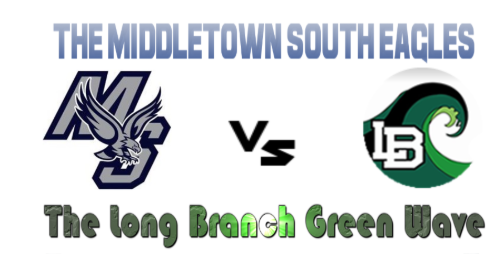 Week 3 was a bye for Middletown South, who reclaimed a spot in the Shore Conference Top 10 after a thrilling upset over Red Bank Catholic in Week 2. After a week of rest, the Eagles will resume their season in Long Branch to play their adversary in the South Group 4 state playoff bracket. The Eagles have not seen Long Branch since the 2017 postseason, when the Green Wave won the first of two consecutive state titles. However, the defending champs have failed to recapture last season's magic thus far, and the Eagles will look to capitalize and secure a much-needed win before Homecoming arrives.
Evaluating the Green Wave:
SUPER SPEED: Long Branch boasts one of New Jersey's finest football players in Jermaine "Pooter" Corbett. In his junior season, Corbett led the state in rushing yards, putting together a 2,021 yard campaign with 26 touchdowns (averaging more than two per game). He remains lethal force in the backfield that has been the lone bright spot for the Green Wave this season, notably putting up three touchdowns against Rumson-Fair Haven's defense. No matter what, he is one of the toughest covers in the state who can break a game open at any moment.
LOW TIDE: Despite the inspired play of Corbett, the Green Wave have stumbled to a 1-3 start this season. Their sluggish start comes as a bit of a shock; despite superstar quarterback Marc Dennis graduating, Long Branch was still projected to be a top ten team in the Shore. The hole that Dennis left, however, does not entirely explain the why the Green Wave are struggling. Offensively, Corbett is their only reliable option offensively (and he has struggled at times this season), and defensively the Green Wave have yet to show the ability to get stops consistently. The team certainly has talent, but right now that talent has yet to come together like it did in 2017 and 2018. 
ANOTHER YEAR: Dan George (brother of Middletown Township School District's Superintendent Dr. William George) remains at the helm of the Green Wave football program, and is coming back-to-back state championships. He is a battle-tested head coach who has shown the ability to win in dire situations, best demonstrated by Long Branch's comeback from a 17 point deficit to win their 2018 title. He'll be looking for a dramatic change in fortune for his team.
Evaluating the Eagles:
THE QUARTET: I gushed over how South was able to bulldoze RBC in my last "The PA: War Eagle Weekly," so I'll briefly summarize what I said: Vinny Condito, Matt Krellin, Chris Lotito, and Tyler Cuccia are Eagles' "Big 4." Condito was a beast at fullback, Krellin was making catches left and right, Lotito came up big on the ground and with a sick halfback pass, and Tyler Cuccia scored three touchdowns himself while unlocking the offense (just like Trevor Brey did last season). They played as stellar as one could possibly dream of against a defense that features two Division I commits, and if they keep this up, they should be able to compete in every single game from here on out without question.
TIGHTEN THE SCREWS: Middletown South held RBC to 7 points and sacked Ryan Edgerly three times, which was a demonstration of their amazing potential on that side of the football. However, 6 of those 7 points (the passing TD) they let up was due to a complete disconnect on the pass coverage, a problem that also was grossly prevalent in their matchup against SJV. On the ground, the Eagles have shown to be just fine since Week 1 (containing Billy Guedetti beautifully), but they need to make sure all hands are on deck when the football becomes airborne.
EAGLE-EYED: While the Eagles do sit at 1-2, Coach Antonucci is far from rattled and knows that playing such a hard schedule has paid off: if the playoffs started tomorrow, the Eagles would be in it and would be playing at home in the first round (due to the power points system). He'll be ready once again to come off a bye week without letting up an inch, eager to give his team a prime opportunity to get to 2-2 and show that they mean business ahead of a critical matchup against marquee rival Toms River North next week.
What are each team's prospects?
THE GREEN WAVE WILL WIN IF…Corbett goes off. He's arguably the best player the Eagles will see year. If the offensive line gives him their best effort, he could potentially wreak havoc on the Eagles (as he had many other teams in his career) as a one-man army; he absolutely needs to carry the Green Wave.
The EAGLES WILL WIN IF…They do what they did in Week 2. The confidence level of the Eagles has to be through the roof after what they did to RBC. The stout defense of the Eagles is certainly more energized than ever after a lockdown performance. With Tyler even more comfortable under center after a week of preparation, he (and the offense) should be due for another strong showing against a defense that has yet to gel. If the Eagles improve on what they have built in Red Bank, expect them to soar even higher and get their second win in 2019.