Eagles Game Preview: Week 5 Homecoming Special
The Eagles return to The Swamp for a truly epic clash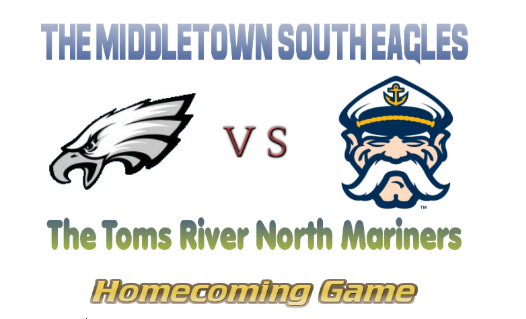 After Middletown South suffered a 26-14 defeat at the hands of Long Branch, the Eagles sank to 1-3 and fell from 3rd in South Group 4 all the way to 12th, which puts them in danger of missing the postseason. The Eagles are looking to quickly readmit themselves to the top of the heap, and there is no more opportune time to do so than on Homecoming Night against their American Division archrival: The Mariners of Toms River North.
Evaluating the Mariners:
ANCHORS AWEIGH: This year, TRN has proven to be not just a powerhouse in the Shore, but in the state of New Jersey as well. Quarterback Jake Kazanowski, at 6'3", is literally a huge factor for the Mariners with his stupendous passing ability. He has 10 wins under center dating back to last season as the Mariners' QB, and he his only a junior this year. The OL and DL for the Mariners are also of note, featuring several behemoths that stand taller than 6 feet tall, most notably the 6'7", 315-pound lineman Najae Hallenbeck. Throw in All-Shore running back Jarrod Pruitt and All-Shore wideout Dominick Jacob and you have the recipe for a team that has been on a mission in 2019.
BOILING BLOOD The Mariners put their perfect 4-0 record on the line against the RBC Caseys in Week 3 and shockingly lost 21-6 in a game that shattered their aura of invincibility. There is no doubt that TRN is beyond furious after that result; they found their bully ball approach fall apart when the Caseys refused to back down, and were swiftly booted out of the state rankings (they were 16th in NJ) and lost their spot as the Shore's 3rd best team after their defeat. While they may seem mighty on the surface, it has now been proven any hard-nosed team can tussle with the Mariners if they play well defensively (RBC made the TRN passing game evaporate) and remain unintimidated.
BIG THINGS: Dave Oizerowitz is at the helm of Mariners football, and this year his squad has come out on top of some impressive battles. Oizerowitz must be commended for his stellar play calls and his team's execution in their two overtime victories this year against Rumson and Manalapan; the coach is a big part of TRN's success and he wants to rebound in Week 5 after a disappointing Week 4.
Evaluating the Eagles:
POWER UP: Vinny Condito continues to show that he is a force at fullback. When all else fails, he is the guy the Eagles turn to in order to break the defense. Condito carried the South offense on his back while he just marched downfield. Long Branch had no answers, and it would be hard to see any team doing much to slow him down while he has been on a spectacular tear on the ground. He is unequivocally the Eagles' most consistent weapon, and feeding him could only lead to good things.
SHEER COLD: Defensively, Middletown South remains a solid unit. The culprit behind the Eagles' loss to Long Branch was simply a completely frozen offense; everyone except Vinny Condito couldn't keep drives alive, and South committed eight turnovers that allowed the Green Wave to throw knockout punch after knockout punch. The Eagles have to really clean up their attack if they wish to turn their season around, and that starts with ball control, execution, and, most importantly of all, supreme confidence. 
NO DOUBT: Coach Antonucci is well aware that qualifying for the playoffs is the ultimate goal at this stage in the year, and has preached the weight of this game to his team. One needs to look no further than in 2017 to see some Eagles victories late in a season; the Eagles managed to get to 4-4 with their last regular season triumph and make the playoffs before they finished the year 5-5. Under Antonucci, a respectable finish is never out of the question.
What are the stakes?
TRN: This game is not a must-win per se, but a loss to the Eagles would be doing no favors to a Mariners team looking to get the best seed possible in the playoffs. They need to bounce back from last week's defeat and continue to push their claim to their section's top seed, or else their reputation as a powerhouse and lofty championship quest will be seriously curtailed.
MHSS: For the Eagles, this is a game that has to be won at all costs. Beating the Mariners would yield more than enough Power Points to regain a safe spot in the state playoffs, and it would be a huge confidence booster before playing Rumson. With another loss that would put the Eagles at a putrid 1-4, the road to the playoffs would become far more uncertain.
What are each team's prospects?
THE MARINERS WILL WIN IF…they play with poise. RBC broke TRN on both sides of the football because the Mariners were rattled from the start, and nothing could go right for them as a result. If they regain their composure and rediscover the team that stood tall in New Jersey's Top 20 just a few weeks ago, there aren't many who can contend with them at all, and they could quite possibly cruise to another road victory.
THE EAGLES WILL WIN IF…they explode on offense. The Eagles can be special on that end; we saw it against RBC. If Tyler Cuccia is a threat as a thrower and runner once more, he will fully unlock the scoring talent that the Eagles certainly possess. It will take a solid effort from their core to get the job done, but the Eagles can make some winning magic happen at the Homecoming Game if things click.