Eagles Game Preview: Thanksgiving
The Lions and Eagles will duke it out on Turkey Day once again.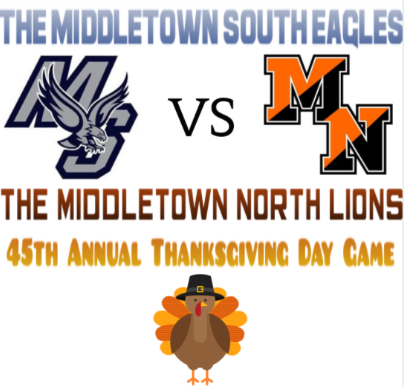 This is the game that the Middletown community looks forward to every year. It hardly needs an introduction: what's better than the whole town coming together to see Middletown North and Middletown South play a great game of football on Thanksgiving Day? While most other Thanksgiving Day games in New Jersey have been phased out in recent years as the state playoffs receive a heavier focus, Middletown has kept its greatest sports tradition alive and well. Middletown South has a terrific Thanksgiving Day record of 31-12-1, including 17 wins in the last 18 meetings (the one loss in that span occurring in 2016). In the latest matchup between the two squads, the Eagles will need that historical excellence on their side to avoid suffering a losing season, something that hasn't been the case for Middletown South since 1984.
Evaluating the Lions:
GREAT LEAP FORWARD: Middletown North, after suffering a 2-8 effort in 2018, stepped up considerably this season; they finished with a record of 4-6 (just as many wins as the Eagles) and even saw themselves in the Shore's Top Ten in the early part of the year. Their signature win was against the Long Branch Green Wave, a feat that the Eagles couldn't replicate. Although their hot start was extinguished, they did take a step in the right direction overall.
A HUGE ASTERISK: The Lions have a huge knock against them: their strength of schedule. Aside from Wall, Mater Dei, Southern, and Long Branch, Middletown North saw nothing but Shore Conference bottom feeders in the regular season like Marlboro (3-7), Freehold Township (2-8), Brick Memorial (3-6), and Howell (1-9). Out of this unnoteworthy group, Freehold Township was able to beat them. When the playoffs rolled around, the Lions were predictably steamrolled by a terrific Toms River South squad (9-2) and a decent Red Bank Regional team (6-4). Not only does Middletown North lack top-tier talent, but they also haven't seen much top-tier talent. Put them in a better division, and this team's record would be a lot worse.
Evaluating the Eagles:
ROLLING WITH THE PUNCHES: This Eagles team endured perhaps the toughest schedule in program history and walked away with a very solid 4-5 record with a chance to get to .500. The Eagles, aside from thrashing a helpless Brick Township team (3-6), topped fellow American Division superpowers RBC (5-3), sectional runner-up RFH (6-4), and a decent West Jersey foe in Hamilton West (7-2). They also only lost to division champion TRN (9-2) by 5 points and to sectional champion Hammonton (10-2) by 3 points. This Eagles team was a fighter that punched well above their weight with a traditional blend of gritty defense and hard-nosed offense, even in the face of such a daunting schedule. 
STREAKY SHOOTERS: The Eagles lost plenty of games they shouldn't have against weaker opponents like Manalapan (5-4) and Long Branch (4-6). Their most glaring defeat was against SJV (4-5) in a game in which the Lancers crushed the Eagles in a 35-7 beatdown. For all of the talent the Eagles have, they have been ridiculously inconsistent. Seemingly lesser teams easily picked off Middletown South in the regular season, freezing their offense and eviscerating their defense; have the Eagles shed that flaw at this stage in the year?
What are each team's prospects?
THE LIONS WILL WIN IF…they get lucky. They are a bad team in a bad division. It pains me to say it, but from top to bottom the Lions lack the talent and experience that the Eagles have. They can only hope that the Eagles gaffe again like they did against Manalapan, SJV, and Long Branch (their only common opponent).
THE EAGLES WILL WIN IF…they play their brand of football. North is a team ill-prepared to fight an Eagles team that saw the best football on the Jersey Shore and nearly knocked off a sectional champion. If the Eagles do their jobs, then there is no reason why they shouldn't end the year 5-5, which would be a tremendous achievement given how tumultuous the season has been.
Score prediction: EAGLES 21, LIONS 7.