A Year in Review: Best Album's of 2012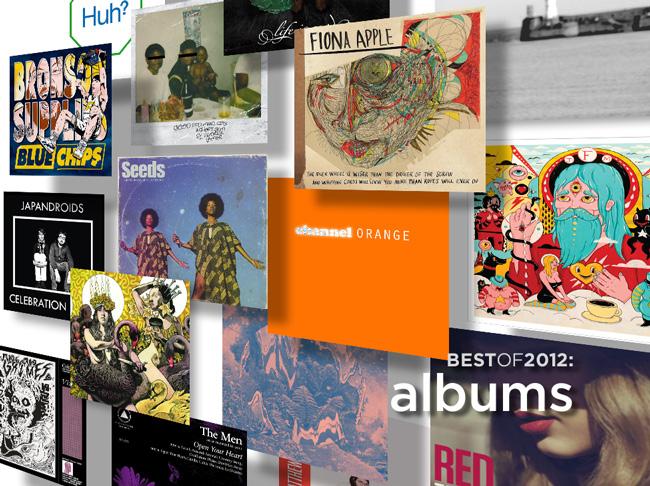 2012 was a fantastic year in music, featuring many highpoints in Rap, R&B, Rock, and more. 2012 also marked the year with the debut albums of R&B crooner Frank Ocean and rapper Kendrick Lamar, the return of Fiona Apple, and Jack White's first solo album. After much thought, we were able to compile the list for the top ten albums of the
10. Blunderbuss– Jack White
            After ending The White Stripes, and taking a break from The Raconteurs and The Dead Weather, White satisfied fans with the release of his first solo album "Blunderbuss." "Blunderbuss" infuses garage rock, blues, and folk, and is ultimately strange, creative, and emotionally satisfying.
9. Celebration Rock– Japandriods
            "Celebration Rock" is the Canadian rock band Japandriods second full length album, and over the course of eight songs and thirty-five minutes it rocks you hard. The standout track is "The House That Heaven Built," the climax of the album, and a song that is     extremely catchy and features a fantastic chorus. Overall, "Celebration Rock" is one of the most enjoyable rock albums in years.
8. R.A.P Music-Killer Mike
After embarking off of his stint with Outkast, Killer Mike has found much success as a solo artist. Part of what makes Killer Mike a great rapper is his ability to explore deeper issues within hip-hop such as the war of drugs or Reagan economics. With profound and intellectual tracks like "Reagan", and brainless fun songs like "Big Beast", Killer Mike has showed with his new album that he is easily one of the best rappers working today.
7. Kaleidoscope Dream– Miguel
"Kaleidoscope Dream" is the second studio album of R&B singer Miguel. Miguel's eccentric style, original compositions and singing abilities are the highlights of the album's refreshing sound.  Miguel is highly comparable to Stevie Wonder and Prince, and he along with Frank Ocean show that 2012 was the year of R&B.
6. Beach House-Bloom
"Bloom" is the fourth and best album of indie pop band Beach House. Beach House has mastered the art of creating memorable hooks and practically no song on this album gets old. Also, songs like "Myth" proves that Beach House is at the pinnacle of indie pop today.
5. Shields– Grizzly Bear
Three years ago, "Veckatimest" came out and Grizzly Bear emerged as a force of nature. The song "Two Weeks" was omnipresent in commercials and on the internet. "Shields" offers nothing as mainstream as "Two Weeks." However Grizzly Bear has made their most adventurous and possibly best album of their career. And nobody other group can harmonize better than these guys.
4. LonerismTame-Impala
"Lonerism" is psychedelic rock band Tame Impala's second album, after their critically acclaimed debut "Innerspeaker" in 2010. "Feels Like We Only Go Backwards", the main track of the album, is an instant classic and possibly the catchiest song of the year. Once again, Tame Impala brilliantly succeed at making a throwback to music of the late 60s/early 70s, with the lead singer sounding uncannily like John Lennon.
3.  The Idler Wheel…-Fiona Apple
Fiona Apple's incredibly long titled album (shortened to The Idler Wheel by most) is her first album since Extraordinary Measures in 2005. This is also Fiona's most ingenious work yet, and her knack for poetic language and unconventional instruments has never shined brighter. Fiona delves into classical music, jazz, rock, and pop and has without a doubt made one of the best albums of the year.
2. Channel Orange-Frank Ocean
 2012 really was the year of Frank Ocean. From his breathtaking performance on Jimmy Fallon, to his heartbreaking confession about his unrequited love for another man that was released on Tumblir, to his tour with Coldplay. But nothing could shadow Ocean's staggering debut album "Channel Orange." "Channel Orange" is intensely personal and includes standout tracks like "Bad Religion" and "Thinkin Bout You." "Channel Orange" is also hugely ambitious, including "Pyramids", the centerpiece of the album of the "Paranoid Android" of R&B. But best of all, "Channel Orange" has introduced us to Frank Ocean, an incredibly gifted artist who we'll be watching for years to come.
1. Good Kid, M.A.A.D City-Kendrick Lamar
Though it was tough picking between Frank Ocean's and Kendrick Lamar's explosive debut albums, Lamar's visionary "Good Kid, M.AA.D City" has earned the title for the best album of the year. "Good Kid M.A.A.D City" is an ambitious concept album that chronicles the story of K. Dot, a boy that experiences gang violence while growing up in Compton L.A. The album is sub-titled as "A Short Film by Kendrick Lamar", and Lamar's cinematic aspirations and storytelling ring true. The tracks are consistently fantastic, including the twelve minute long song "Sing about me/Dying of thirst." "Good Kid, M.A.A.D City" is an instant classic and a landmark success for hip-hop.
About the Writer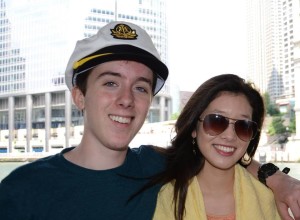 Spencer Mullen, Arts and Entertainment Editor


From the soccer field to the stage, you can find Spencer Mullen almost anywhere around Middletown High School South. Spencer is the kind of kid...