Diversity Controversy on SNL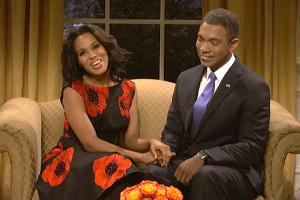 SNL has recently been under fire for their lack of black women within their cast for the past six years.  Keenan Thompson, a very talented actor who plays most of the black female roles on the show shared his viewpoint on the controversy with TV Guide magazine.  SNL addressed the issue in the best way they know how; make it into a comedic sketch.
Pop culture seems to depict black women as either acculturated to an expected image or the complete opposite.  On Saturday Novemeber 2nd, SNL's opening sketch hit the ongoing ridicule about the lack of black women on their show.  Many have said that was an outward move on the producer, Lorne Michael's, but it got the point across that the show is in the process of looking for a black female that will work well on the show.
Kerry Washington, "a very versatile actress" as said by SNL in their sardonic ways, was the host that week and took on the roles of Michelle Obama, Oprah Winfrey and Beyoncé all in one sketch, forcing the actress to undergo multiple wardrobe changes, which brought great attention to the absence of a black woman on the show since Washington had to play the roles of all three of these women.   While Kerry underwent her wardrobe changes from the first lady into the gift-giving ex talk show host, SNL producers set off a diatribe across the screen explaining their lack of black females in a comedic way that still kept the humor of the show.
SNL has been dealing with diversity issues on the show ever since they first started in 1975.  Today, out of the 23 writers, only one is black.  SNL constantly keeps making the statement that the black women they have tried to cast are not "ready for the show", or is it really that SNL is not ready for them?  As great of a show SNL may be, some may say they are a bit behind their times when it comes to diversity.
What do you think?
Leave a Comment