bopdrop: Taking the World by Storm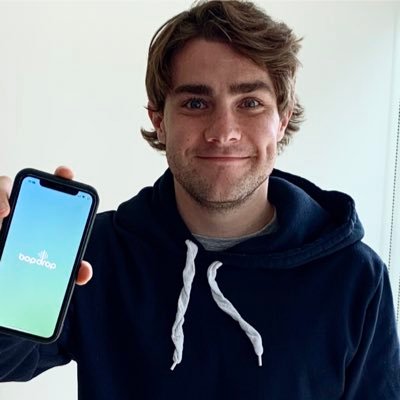 bopdrop is a free, fast-growing app launched in May of this year that allows users to post a clip of one song per day. bopdrop has been called the "Instagram of music," allowing users to share, like, and comment on daily songs posted by the people they follow. Teenagers connect to music more than anything, and while other streaming platforms [like Spotify and Apple Music] are a place to listen, bopdrop is a place to share and connect with others who have similar interests, or find new favorites. While not yet at the user capacity of Twitter or Instagram, bopdrop's charm lies in its tight-knit user community.
Matthew Krause (@krausem2), music lover, child guitarist, and CEO of bopdrop, created the platform: "I have had the idea for bopdrop for a long time, just never seriously pursued it until after college." The name "bopdrop" came from Krause's observation that "a lot of Gen Zs were using the term when referring to songs, so the term bopdrop refers to the action of dropping, or 'posting' a song that was influential to you." 
Since social media is the best way to captivate the attention of teenagers and young adults, Krause used it as one of his main marketing strategies. Many bopdrop users first hear of the app on Tiktok, that other app centered around users creating short videos set to music or a backtrack. "Developing a brand users can identify with is very important, and if you think conceptually about being a start-up building a social network, you're never going to have enough [money] to 'buy' every user on your platform. You won't have success if you need to spend advertising dollars on every user," explained Krause. That's where Tiktok came in. "You're going to need to need friends telling friends and spreading the word [like on platforms such as Tiktok]. This is often referred to as the K-factor. The better the K-factor, the better the opportunity. K-factor is sort of an indicator of demand in that way."
One musician who has taken advantage of bopdrop is 22 year old New Jersey native Michael Gervasini, known by his stage name, Gervs (@gervsofficial). While his music is available on all platforms, Gervs, who started creating music in 2017, found it easy to connect with and build his fan base though bopdrop, and has found traction and community within the app.
"I love this app because it really helps me find new music and connect with so many people as well as build a fanbase..bopdrop is definitely helping me with exposure," he said. "I've seen so many people posting my songs and so many people got back to me with awesome feedback, I couldn't be happier with this app forreal." Gervs' music and independent record label, Loud Era Records, which he co-founded with friends, is beginning to gain attention and a strong following thanks, in part, to bopdrop.
If you're tired of throwing the current soundtrack to your life on Instagram stories, or simply texting a friend, bopdrop is the latest in music technology and discovery.