All About Dollars and Sense
      Surfing through the T.V. guide on the weekends is a gift of leisure during the busy school year, so when I found some time to do so I was elated, to my dismay there were not any shows of interest.  My last resort, the reality show channels.  They contained purely mind numbing programs that made me question "high society" and what made these people deserve to be on their own T.V. show. The show I decided to watch, one which I had never seen or heard of before, is called  "Rich Kids of Beverly Hills".  What a mistake, I guarantee you that I lost a couple of brain cells in the process of watching the show for only a matter of five minutes.  The constant nagging of the main character's valley girl voice made me want to scream.  Now, many might think; why didn't you just change the channel?  That's just it, the producers of this show and other shows alike are in no way dumb.  They have captured the audience on both ends of the spectrum; those who share similarities with the characters in the show, and those who just want to see how much stupider and more shallow each one of them could get (that would be me).
     On this particular episode, two of the "rich kids", or should I say adults in their late twenties living off of their parents money, happen to run into one another at a very high end store on Rodeo Drive, nothing uncommon for the average billionaire's daughter on the show.  When all of a sudden, they are faced with a life changing dilemma; the girls were sporting the same thousand dollar red bag.  The whole world was coming to an end-at least that is how the characters had made it seem.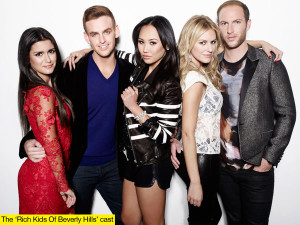 As dumb and insignificant one may believe this show to be, it has the potential to teach values, others just believe that its purpose is just for the effect of taking your mind off of work and watching something stupid, because that's nice every once and a while. The show teaches a lesson, in no way through the script or the morals to which the characters live by, but through the values of the viewer.  You begin to question yourself, even promising yourself that you will never surmount to a person on this show no matter what happens in the future.