"I Don't Want to Grow Up": How Simple Plan is Doing Just That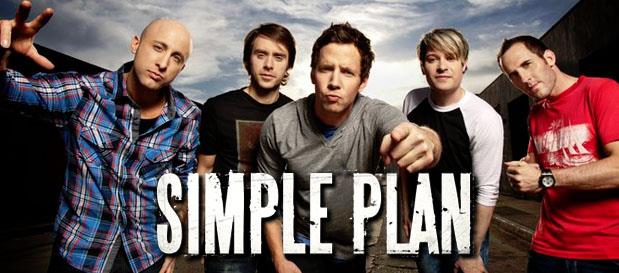 "Do you ever feel like breaking down? Do you ever feel out of place?" If so, you would probably connect to the band Simple Plan, a French-Canadian pop-punk band recognized for writing about teenage angst, rebellion, and refusing to grow up. Made up of vocalist Pierre Bouvier, guitarist Sebastien LeFebvre, bassist David Desrosiers, drummer Chuck Comeau, and other guitarist Jeff Stinco, the band has been together since 1999 and is still going strong today. Some of their most thriving hits include the poignant "Welcome To My Life", the classic pop-punk "I'd Do Anything" (featuring Mark Hoppus from Blink-182), and the fury-fueled "Shut Up!", all dealing with the trials and tribulations of being a young adult. Simple Plan has four albums full of teenage themes, and they have all been critically acclaimed by reviewers and fans alike. After the fourth album, also known as "Get Your Heart On!", Simple Plan fans accepted the tours, live albums, and extended plays, but waited on the edge of their seats for a new album. Finally, the agonizing wait was over- in 2013, the band confirmed that they were in the process of creating their fifth studio album! After nearly two more years of being left in the dark about the album, Simple Plan just released some tantalizing tidbits and singles from the album this year. By no means is the album completely finished yet (there isn't even a title), but given the fact that their latest single "I Don't Wanna Go To Bed" was just released on October 16th, now is the perfect time for anyone interested in Simple Plan to hear about what's been released.
The first single released was "Saturday", a party anthem featuring rhythmic, repetitive lyrics and a fast-paced beat thanks to Comeau's drumming skills. Comeau describes the song as  "…a song about wanting to spend more time with someone you care about. It's cool because you didn't expect that." The song even makes pop-culture references, saying "You and me, baby, nothing but Netflix" and "singing Don't Stop Believing 'til the morning light." When this was mentioned, Comeau said, "You know what, it's funny because that's what people do. You either go out and party to have fun, or you'd just stay home and watch Netflix. It's a cool little wink at some of the modern things people do these days." As catchy and fun as this song is, it was also the first sign of Simple Plan fans getting disgruntled with the new sound, wondering where the more "meaningful" themes that the band's earlier songs expressed were.
Another new song that received mixed reviews was "Boom!" This upbeat tune featured the message of having a love so solid that even when everything else is crumbling, the relationship will stand strong. This is made clear from the opening lines, where Bouvier sings, "In a world full of heartache/Seems like everyone's burning out/You and me we did it our way/And this love ain't running out…" Palm-muted guitar chords by Stinco and LeFebvre and a catchy hook make this song a perfect anthem for pop-punk lovers everywhere. However, many avid listeners believe that Simple Plan is leaning too far towards the "pop" side of pop-punk, restating again that they miss the band's original sound of teenage rebellion and angst.
The next song, "I Don't Wanna Be Sad", is one that solidified the maturity of this new album. From the title, I, like all of the other listeners, was expecting a tune in close junction with some of Simple Plan's earlier and more melancholy work. I waited for the opening piano notes of "Untitled", or the bittersweet lyrics of "Save You". However, I was immediately shocked by an upbeat tone and a hand-clapping beat. Although it was not at all what I expected, I found myself drawn to the pulsing beat and memorable chorus. The song's message is a conspicuous break from Simple Plan's old style; instead of having entire songs devoted to being sad, this song states how it's okay to be sad, but now is the time to fix it and be happy again. Bouvier says it best when he sings "But I'm through, I'm done, I've had enough/I'll ditch this funk I tell you what/Just watch me now/Cause I won't back down… No, I don't wanna be sad/I don't wanna be sad, sad, sad, no more…" The shifted sound and tone enraged Simple Plan fans, with some of them commenting how they were not going to listen to the album if it was all like this, and others bemoaning the loss of tracks similar to "Perfect" or "This Song Saved My Life". While I was bemused at the start of the song, I gradually found myself warming up to the change in style, and the song has been a permanent fixture in my head ever since it came out.
The most recent and last single released from this fifth album was called "I Don't Wanna Go To Bed", which expresses the greatest change in Simple Plan's new style yet. Immediately at the first verse of the song, Desrosiers expresses his talent on bass with a prominent bass line. This contributes to a more "funky" sound, especially with Bouvier's vocals and the repetitive hook. The song's lyrics are very similar to Saturday's, saying "I don't wanna go to bed without you… Why should we wait forever? We're meant to be together…" Although this song doesn't have any of the pop-punk elements that Simple Plan is known for, I found myself attracted to it all the same. Whether it's the showcasing of David's bass, Pierre's vocal prowess, or funky drum beats, I know that this song will easily define Simple Plan's coming-of-age process.
While Simple Plan's transition from teenage pop-punk to mature themes may seem disappointing to some, I am ready for what this album has to offer. Growing up comes with permanent changes, and hopefully Simple Plan fans really listen to what the album means. Overall, the singles released from Simple Plan's unnamed fifth album are ones that will definitely get you dancing with that special someone.